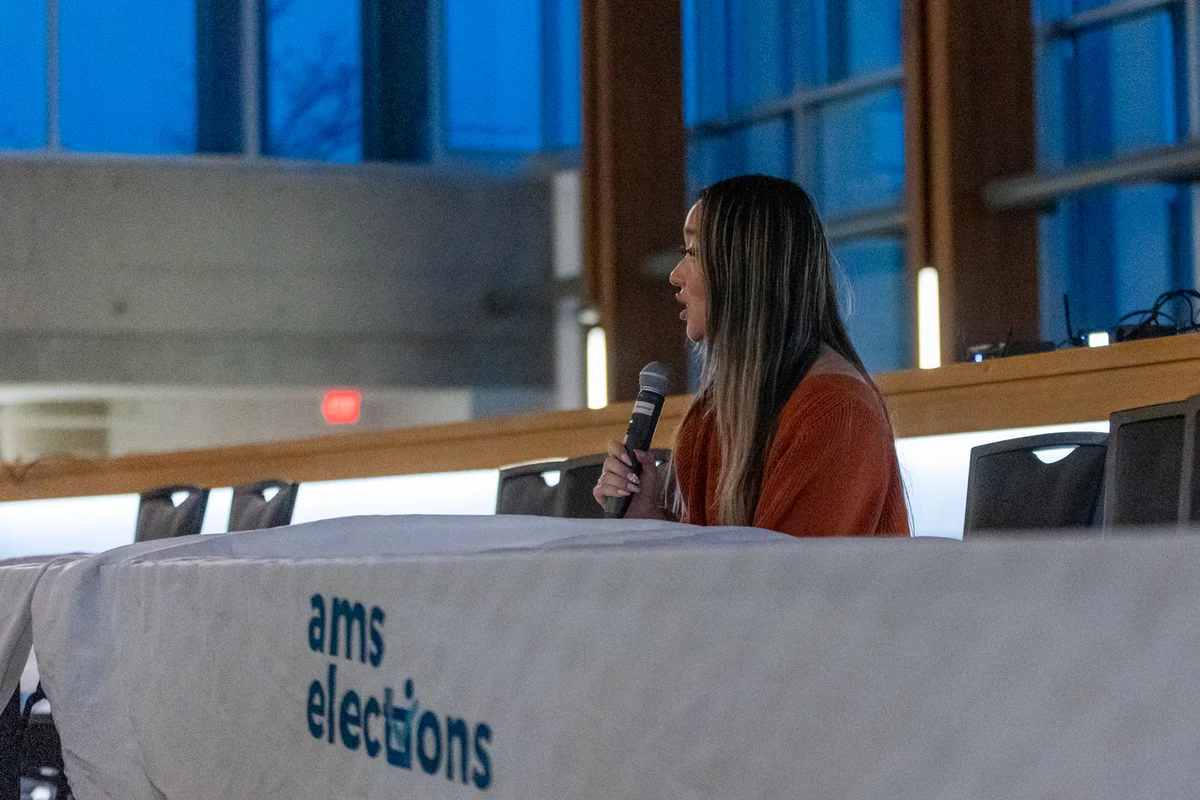 This article discusses police brutality.
Uncontested VP external candidate Tina Tong discussed her platform proposals and faced criticism from audience questions at last night's Great Debate.
Tong, a third year student majoring in Asian studies, spoke to her past experiences being "highly involved on campus" in multiple organizations and clubs. She has not worked with the AMS before, nor does she have any prior advocacy experience.
"Although I do not have any previous [associate vice-president external] experiences or any AMS experiences, I am extremely open to learning and doing research on my own time," Tong said. 
Tong said she believes she is "fully equipped" to take on the role. 
Commenting on the provincial government's recently-released budget, Tong said would advocate for the province to allocate more funds to the university's operational budget, saying this year's budget demonstrated the government is "sitting on all this money" that could have been allocated to university students but has not been.
When asked if she was concerned by the Vancouver Police Department's (VPD) recent budget increase, and how she would engage with the City of Vancouver on matters of public safety, Tong said she was not concerned about the budget increase and that it "is very important for the City of Vancouver to have a lot of resources that they can provide to students." 
In response to a follow-up question regarding racialized students' advocacy against the VPD's budget increase over concerns about police violence, Tong said she has "yet to hear of [those] concerns."
"I would definitely be very open to reaching out to these people and learning about their concerns and the issues that they would like to get resolved … I would like to do a lot more research on it before coming to a position," she said. 
Tong has since issued an apology for her comments and confirmed she is "aware that police brutality exists."
In response to a question about lobbying for international students at the federal level, Tong said she would like to connect with the provincial Ministry of Post-Secondary Education and Future Skills to "develop a new international education strategy that will incorporate more loans and funds for international students to lift the burden of their tuition costs." 
She had no specific federal goals regarding lobbying for international students.
Asked her views on what are the biggest challenges facing graduate students at the university, Tong said it is a lack of opportunities available in the Vancouver job market, which she said she would attempt to address by lobbying the government for more funding for graduate students' tuition. She did not say how this would directly improve the job market. 
Part of Tong's platform includes commitments to improve student housing, which is generally an advocacy responsibility under the AMS VP academic and university affairs. 
When asked, Tong said that although she would be VP external, she is "still an AMS exec" who would use that platform to lobby the university, even if it is outside her jurisdiction.
Erin Co, the current VP external, corrected Tong's platform commitments on the Sexual Violence and Misconduct Policy Act, bringing up that it already mandates post-secondary institutions have a standalone policy to address sexual violence, something Tong said she would lobby for the Act to be amended to do.
Co then asked which of the 11 minimum standards proposed by Students for Consent Culture Tong would prioritize in her advocacy to government. Tong said she thinks all 11 are important, but needs to do more research.
Voting opens on March 6 and closes on March 10.
Follow us at @UbysseyNews on Twitter and follow our election coverage starting February 27. This article is part of our 2023 AMS Elections coverage.