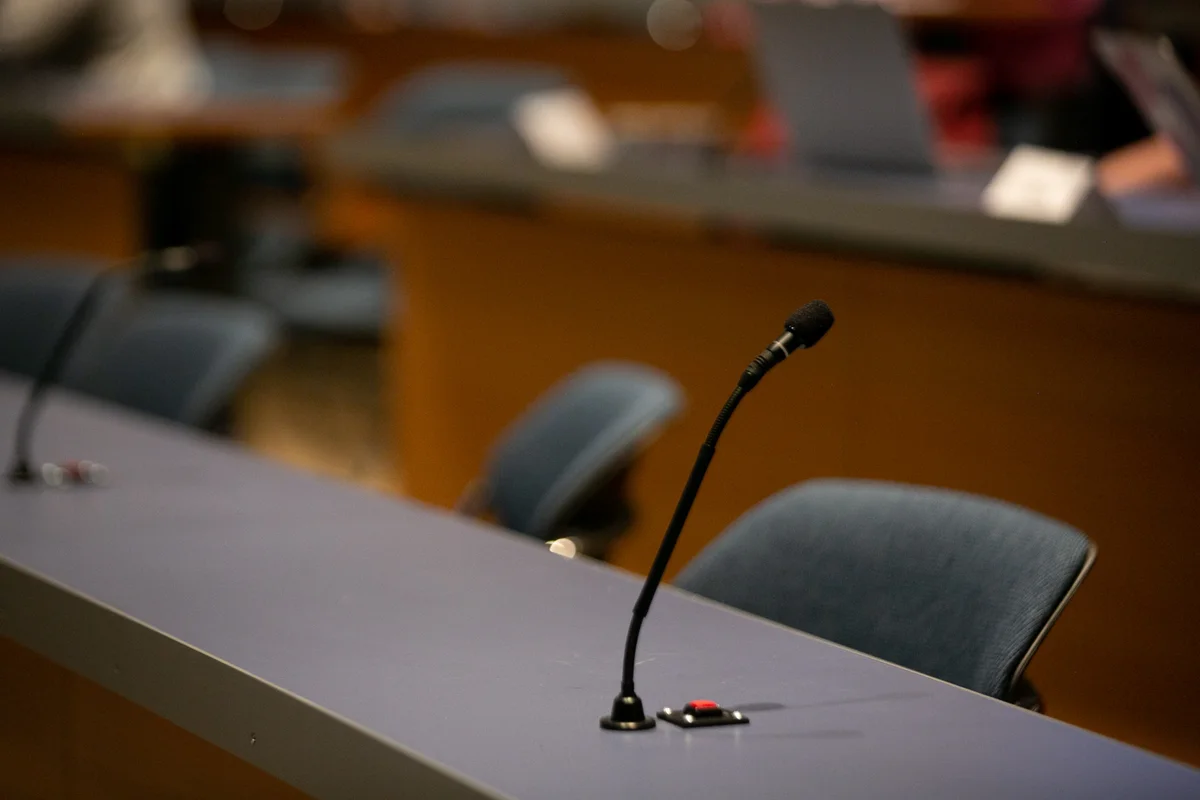 On November 15, the Senate met for the first time under new President Benoit-Antoine Bacon to receive the student senate caucus' Senate 2026 priorities memorandum and the UBC Library annual report.
Here's what you might have missed.
New president and Senate Chair
The meeting began with Provost and Vice-President Academic Gage Averill welcoming Bacon as new Senate chair, saying he is joining the university at a time of "considerable change, challenge and opportunity."
Bacon, a neuropsychologist and previously president at Carleton University in Ottawa took over from Interim President Deborah Buzzard and began his five-year term on November 1.
In his opening remarks, Bacon acknowledged that "we're living in challenging times" but expressed optimism about the university's future.
"UBC is uniquely positioned to shape the next century in Canada and globally," Bacon said. "There is no question in my mind that the value proposition of UBC is unmatched in this country."
After Bacon's introduction, senators were given the opportunity to ask a few questions of the new president.
Senator Toph Marshall congratulated Bacon on the beginning of his tenure and his advocacy in mental health — but quickly drew the Senate's attention to recent termination of the Student Assistance Program.
"Your reputation as a champion for mental health issues … is admirable for signaling the importance of counseling supports for students in the wider university community. It is therefore unfortunate then that in your first week in the position as president the university has decided to cut some mental health support for students."
Bacon thanked Marshall for raising the issue and responded with an honest reply, saying "I have no idea what this program is, but I'll look into it."
Senator Santokh Singh then asked Bacon to comment on the issues facing international students, particularly with food insecurity and mental health.
"Empty stomachs do not really favour learning," Singh said, sharing that the department of Botany's food pantry for students is routinely left depleted after less than a week from being fully stocked. "I really feel that with that type of oppression our students are feeling our mental health becomes even more of an issue we need to tackle."
Bacon thanked Singh for raising the issue and agreed with there being a link between mental health, socioeconomic status and diversity and inclusion.
Student senate caucus presents Senate 2026
The student senate caucus delivered its Senate 2026 memo outlining the caucus' priorities for the next three years.
"After much thought and consideration, in this document we have placed emphasis on 6 goals: Equity, Experiential Learning, Student Academic Support, Accountability, Appeals and Reviews," the memo reads.
Among the ideas the caucus supported included making the Senate Ad Hoc Committee on Academic Diversity and Inclusion a permanent committee, expanding undergraduate research opportunities, moving the course withdrawal date to the last day of classes and leaving libraries open 24/7.
Library updates
University Librarian Susan Parker delivered the library's 2022/23 annual report, highlighting the institution's work serving almost 80,000 unique users and processing over seven million logins over the last academic year.
By the numbers, UBC Library last year saw it support nearly 30,000 workshop participants, answer over 62,000 patron questions and welcome 2.4 million in-person visitors. Parker reported expenditures ran $48.2 million with $48.6 million in revenue, leaving the library with a $400,000 surplus.
Parker also highlighted the UBC Library's acquisition of a first edition of Shakespeare's First Folio, which was gifted to the university in early 2022 and has since been digitized.
"This digitized folio has already been viewed thousands of times and we are already in close collaboration with the scholars on campus who are in the First Folio Research Cluster," Parker said.
Senator Ben Britton asked Parker about the library's efforts toward expanding investments in open access beyond its work with the Canadian Research Knowledge Network on large-scale licensing agreements, which Parker said had saved UBC researchers more than $1 million in article processing charges. Parker replied that this remains an ongoing effort with peer institutions who need to work as one toward opening up research and accessible academic publishing.
"I don't think UBC could do it alone, to pressure publishers … it takes more than librarians, it takes voices like yours, so I really appreciate that."
Disclosure: Spencer Izen is a member of the Library Student Advisory Committee, which convened after the Library's annual report was tabled; the committee had no involvement in the production of the report.