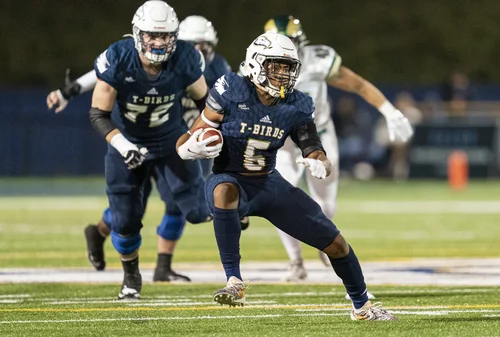 On Saturday, September 9, the UBC Thunderbirds will take on the University of Calgary Dinos in their first home game of the 2023 season. They begin the season ranked 9th out of the 27 teams in U Sports. The University of Saskatchewan Huskies, who have now held the Canada West title for two consecutive years, are the only division rival ranked higher at third.
Last season, the T-Birds scraped their way into the playoffs with a 4–4 conference record at the cost of starting quarterback Garrett Rooker, who sustained a serious leg injury in a game against the Huskies. The Thunderbirds managed to make it to the Canada West finals with back-up QB Derek Engel at the helm, but fell 23–8 to the Huskies in an offensively lopsided match-up.
UBC hopes to overcome the Huskies this year and ultimately win the Vanier Cup, but they face an uphill battle and new challenges complicating their path.
According to UBC head coach Blake Nill, Rooker has fully recovered from his injury, but coaches are still unsure if he is ready to return. The team has yet to name a starting QB, with both Rooker and Engel competing for the job.
Quarterback isn't the only position facing a shake-up. Several defensive linemen left UBC last year, including Luke Burton-Krahn, who is now a long snapper for the Edmonton Elks, and Lake Korte-Moore, who was selected third overall in the CFL draft. On offense, the T-Birds lost receiver Lliam Wishart, who totaled 29 receptions for 368 yards in 2022.
However, Nill is confident that some of UBC's incoming players will have an instant impact on the team, filling the gap left by departing players. He has high expectations for the T-Birds' younger defensive linemen, particularly second-year Kendrick Diedrick. Diedrick didn't play in his first year at UBC, but "had a tremendous, tremendous offseason," said Nill.
Nill additionally pointed out Mark Webb, a first-year receiver from Ottawa, as another new face to watch out for. "He's going to help us right away," Nill said.
The 2023 Thunderbirds roster is undoubtedly different from last season's, but Nill believes that's a good thing.
"We're older," he said. "In football, there's a significant correlation between physical maturity and success."
But regardless of the changing roster, UBC's mission and game plan remain the same — they are a physical team, both offensively and defensively.
"We build our program around our concept. Very, very seldom do we change our concept. So you won't see much change, you'll just see different people executing the same type of strategy," said Nill.
This strategy was highlighted when the 'Birds took on the University of Regina Rams last week in Regina where UBC won 25–10. Kicker Kieran Flannery-Fleck proved to be a key player, making all six field goals he attempted.
But one game doesn't define a season. So how will this new team fare? We'll find out at 7 p.m. on Saturday at Thunderbird Stadium.
A previous version of this story misspelled the name of defensive lineman Kendrick Diedrick. The Ubyssey regrets this error.