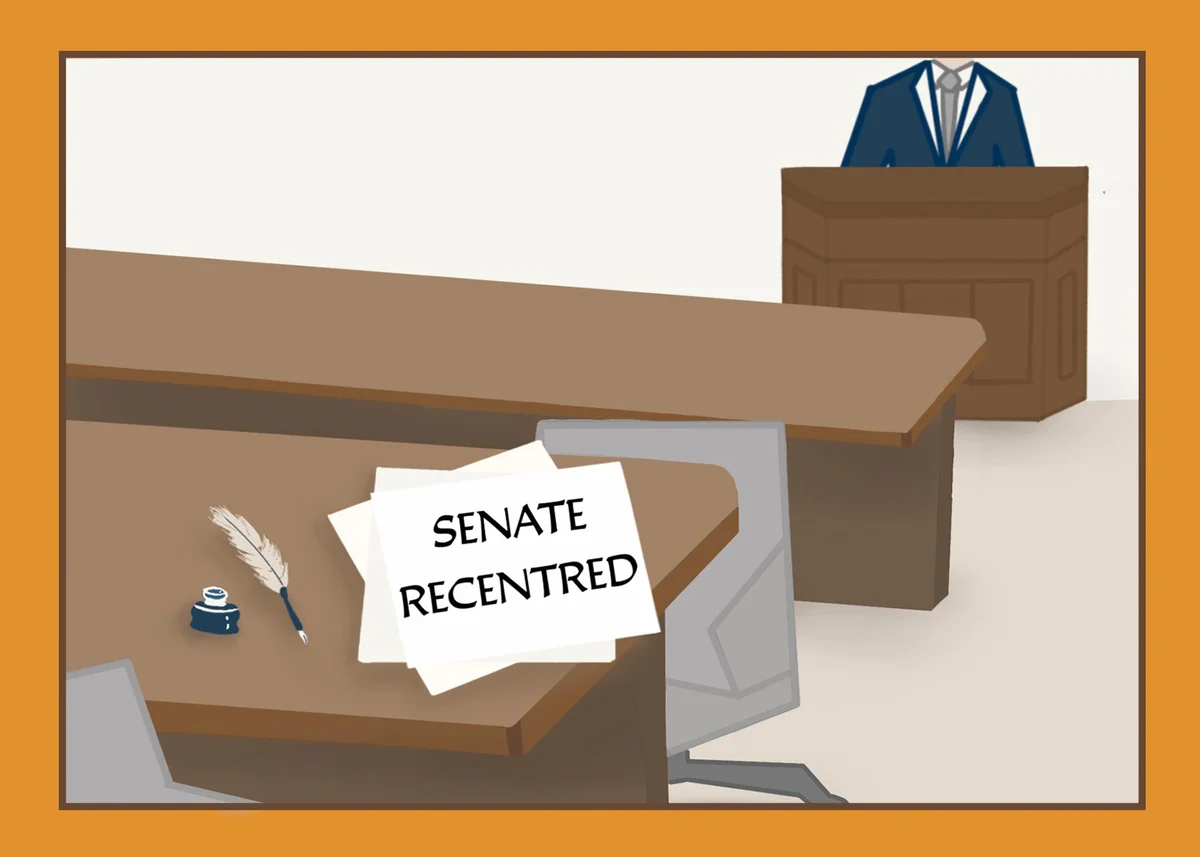 The Senate meets monthly to discuss and vote on UBC academic matters. But, Senate can often be hard to understand for the average student, and the agenda docket can be super long and dull to read.
Senate Recentred is written by members of the Student Senate Caucus to demystify Senate by giving students a snapshot of what Senate is doing this month.
Here's what to expect at the December 14 Senate meeting.
Admissions Committee updates
Several changes are up for approval for this Senate meeting. Here's a snapshot of a few of them:
The Bachelor of Medical Laboratory Science will update its prerequisites. It has also altered language in order to better communicate that non-STEM background and international students are welcome to apply so long as they have completed prerequisite courses, which will be reflected on the Academic Calendar.
The Bachelor of Science in Nursing will update the program description to clearly direct students to the School of Nursing website for deadlines.
The Master of Science in Speech Language Pathology is up for approval of a temporary increase of two seats in the program. This change has been brought forward by the BC Ministry of Health.
Individual Joint Doctoral Programs are up for approval to allow Suspension of Admission. This means no new applicants to this program will be accepted because the Joint PhD pathway is being replaced by the new 'Joint Doctoral Research Scholar designation', approved by the Senate in April 2022.
A Memorandum of Understanding is up for approval. This is a note/record that states the shared, collaborative intent of UBC and Curtin University (Australia) to develop and deliver an introduction of mine closure course.
Senator appointments to new advisory committee
At tonight's meeting, the Nominating Committee will seek to approve three Senate members to join the President's Advisory Committee for the Selection of a Vice-Provost and Associate Vice-President, Teaching and Learning. The position is currently held by Dr. Simon Bates.
Annual report from the university librarian
The University Librarian, Susan Parker, is presenting a recap of all notable library achievements and improvements over the 2021/22 academic year. The achievements are split into sections: advance research and scholarship; engaging with community; create and deliver responsive collections; inspire with innovative spaces and services; and steward the organization.
Some highlights include:
Offering online conferencing platforms at libraries.
Launching a free service to help UBC students and staff develop open access publications.
Unveiling 'Generation Lost' exhibits, a special collection with materials pertaining to the residential schools of Canada, curated by the Xwi7xwa Library.
Opening a new DIY Media Lab located on floor three of IKB that can be used by students to generate high quality audio and video material.
Reopening the Nass Reading Rooms on floor four of IKB as silent study spaces.
Report from the provost
The Provost, Gage Averill, released the External Reviews of Academic Units at UBC Vancouver for the 2021/22 academic year. An external review committee determined key findings and makes recommendations to the university.
Averill also released a memo that summarized the agreement between UBC and the Peter Wall Institute for Advanced Studies (PWIAS). The Vancouver Senate approved the creation of the Wall Fellowships and Research Awards programs at its October 19 meeting.
The Wall Fellowships and Awards will be funded by the Peter Wall Legacy Fund (formerly known as the Peter Wall Endowment). Each year, the fund will support two fellowships and a number of research awards for UBC faculty members and students, totalling approximately $4 million each year. Awards and fellowships will be committed to research that focuses on sustainability, at least for an initial period.
This agreement "leaves the future" of the Peter Wall Institute for Advanced Studies "explicitly in the hands of the Vancouver Senate." Funding for current benefitting PWIAS scholars remains intact until August 31, 2023. Another academic committee, with input from the Vancouver Senate, will consider the future of the PWIAS as well as the desirability for an institute for advanced studies here at UBC.
UBC will also be creating the Wall Collaboration Centre, a space to serve members of the UBC community, Wall Fellows and Wall Research Awardees.
Tributes Committee to discuss honorary degrees candidates
The committee is bringing candidates forward for the first time since honorary degrees where halted last year to focus on the revocation of Bishop John O'Grady's degree.
This session is in-camera, which means that it is private and contents cannot be shared outside of the Senate meeting.
Hajidazeh is a third-year international relations student, senator at-large and Student Senate Caucus co-chair. Yu is a fifth-year integrated sciences student and the Faculty of Science student senator. Yu is in her second term as a senator.
If you have any questions for your student senators, you can reach out to the SSC by emailing Student Senate Caucus co-chair Laia Shpeller at laia.shpeller@ubc.ca or Hajizadeh at romihajizadeh@gmail.com.
Senate Recentred is a column written by members of the Student Senate Caucus to demystify senate from the inside out.