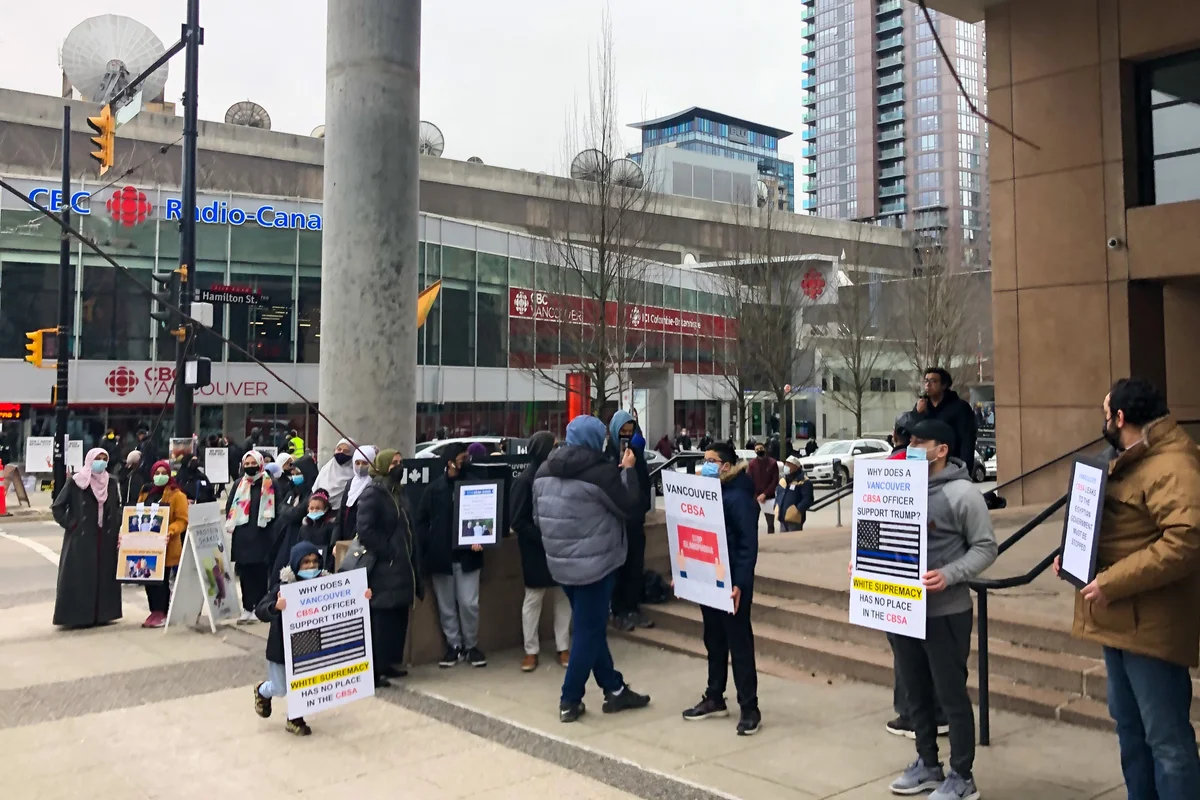 A protest held downtown yesterday called the Canadian Border Service Agency's (CBSA) decision to reject five Muslim Egyptian families' refugee claims Islamophobic, forcing them to grapple with an uncertain future as they await deportation five years after they originally relocated to Canada.
The protest — the second of two — was organized by the Egyptian Canadian Coalition for Democracy and featured support and a speech from the UBC Social Justice Centre (SJC).
The protesters said the Vancouver CBSA chose to reject these refugee requests due to the asylum seekers' involvement in Egyptian political party Freedom and Justice Party.
The Freedom and Justice Party is not listed as a terrorist organization by the Canadian government.
At the protest, speakers argued that the five families fled Egypt's oppressive military regime to seek refuge in Canada and instead faced discrimination at the hands of Vancouver CBSA officers. The overall turnout for both protests was around 100 people.
Matthew Cheesman of the UBC SJC told The Ubyssey that while the SJC was not the original organizer of the protest, it felt connected to these events because one of the main members of the group is an Egyptian Muslim. After hearing about these protests through her circles, the SJC members felt the need to go out and support the protests.
"The SJC has a lot of resources that it can lend to movements like this," Cheesman said. The Social Justice Centre is an AMS resource group, whose International Solidarity Working Group often takes part in actions such as this.
At the protest, members of the affected families spoke about how hard their lives continue to be due to the CBSA's actions and Islamophobia in general.
Cheesman said these protests are happening because Islamophobia is not a singular, isolated event but rather a systemic issue.
"In challenging the CBSA, our goal is to broaden the oversight and awareness [of Islamophobia]," he said.
The second protest yesterday was held in hopes to continue placing pressure on the CBSA, especially with growing public pressure in support of the families' safety and to force them to overturn their decision.
Yesterday was also the National Day of Remembrance of the Quebec City Mosque Attack. Protesters also hoped to further bring to light the various injustices against Muslims as well as challenge the passing of Bill 21 in Quebec, which bans the wearing of religious symbols in the workplace.
Jenna Rizvi, another member of the SJC, spoke at yesterday's protest.
"Canadian Muslims are constantly the subjects of discrimination, and we continue to see this discrimination in government actions such as the passing of Bill 21 and cases of Islamophobia perpetrated by the CBSA," she told The Ubyssey. She also called on the responsibility of the Government of Canada to intervene in this matter.
"It is frustrating to see Canada use symbolic gestures of support while continuing to reinforce Islamophobia within the government's systems."