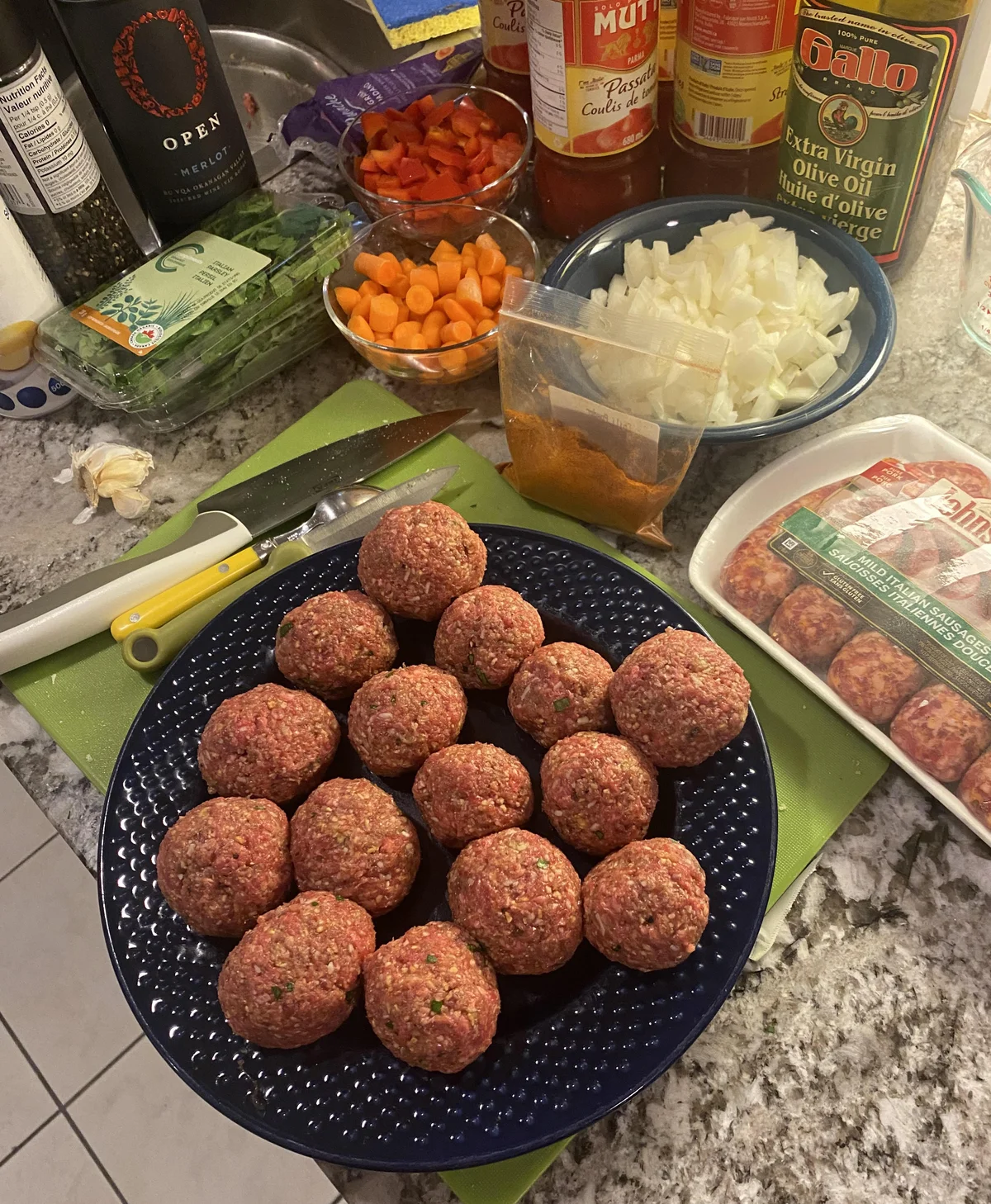 I still remember the smell of a freshly-made plate of pasta waiting for me at the kitchen table in my Nonno and Nonna's house when I was a kid. Whether it was a holiday, birthday or any old Sunday visit, pasta was usually involved.
Following the recipes my grandparents left behind keeps them in my heart and memory. So, I called my mom from across the country to finally walk me through how to make the ultimate Italian tomato pasta sauce and meatballs, just like my nonna used to make.
Some pro tips I learned along the way:
Don't stress about being precise with measurements! In our family, we like to eyeball the ingredient amounts — don't worry if you add a bit more of something, it will still taste great.
Prep the ingredients before you start cooking. I like to dice my vegetables and defrost the meat beforehand to make the process smoother.
Be ready to make a lot of food. As long as you have a decent enough stewing or soup pot, you'll be good to go. Make sure to have Tupperware ready to store the sauce when you're done.
A quick note if you're vegan, vegetarian, gluten-free, or dairy-free…
The best thing about this recipe is that it is totally modifiable to fit any dietary need. Feel free to substitute where needed to accommodate. For vegetarians or vegans, I recommend cremini mushrooms for the sauce instead of meat to add extra flavour and heartiness.
Ingredients:
Meatballs:
~1 small package of lean ground beef (can opt for pork or do half and half)
~¾ cups of breadcrumbs
2 eggs
~¼ cup of milk
Salt
Pepper
1 clove of garlic
½ tsp of chili powder
¼ cup of grated parmesan cheese
A small handful of finely chopped fresh Italian parsley
Sauce:
A handful of baby carrots (chopped up)
~1 red pepper (diced)
~½ a yellow or white onion (diced)
2 cloves of garlic
~1 Tbsp of olive oil
3-4 bottles of tomato passata (Mutti brand is best!)
~4–5 leaves of fresh basil
Salt
Pepper
Chili powder
~1 small package of lean ground beef (can opt for pork or do half and half)
~3 Italian sausages (removed from casing; optional)
A splash of red wine (optional)
Start with the meatballs
Spaghetti, penne, rigatoni — no matter the pasta shape, Nonna always added the meatballs. In a large bowl, add the meat, breadcrumbs, parsley, grated parmesan, salt, pepper, chilli powder and crushed garlic.
In a smaller bowl, crack two eggs, then add the milk and seasoning (salt, pepper, and chilli powder). Scramble the mixture together and add it to the large bowl mixture.
Now it's time to get in there with your hands. Don't be afraid to get dirty, because this is the best way to mix the ingredients together. If the meat feels too wet from the eggs, add more breadcrumbs as needed.
My favourite part of helping my mom or Nonna cook as a kid was moulding the meatballs in my hands like Play-Doh. With about a tablespoon of meat for each, roll it tightly into a ball. This should make around 15 meatballs. You don't need to add all of them to the sauce — you can freeze some for later, fry them separately or turn them into burgers.
The good good sauce
Now for the main attraction: the sauce. On medium heat, coat the bottom of the pan with olive oil. When it's warmed up, add the onion, pepper, carrots and two crushed cloves of garlic. Stir it all together and let it simmer for a few minutes.
Then, add in the remaining ground beef. Season it with — you guessed it — salt, pepper and chili powder. Don't be afraid to be a bit heavy-handed with the seasoning, because it'll go a long way. Mix it all together.
If you'd like, remove the casing from three mild (or spicy) Italian sausages and add the meat to your sauce for extra flavour. Another optional flavour-booster is a splash of red wine.
Mix it well and turn up the heat. Keep the lid off the pot so the liquid can boil out and evaporate, stirring periodically so the bottom doesn't burn.
When I started cooking for myself, I never quite understood what made sauce saucy. That was until my mom told me about the good stuff — the passata. I ended up using three bottles, but depending on how much you want, you can add more or less. Turn the heat down to medium and empty each bottle into the pot, stirring it in with everything else.
When she was walking me through the recipe, my mom taught me a handy trick to get the leftover tomato sauce from inside the bottle. Take one bottle and fill it with a little bit of water, up to the bottom of the label. Put the lid on and shake it. When it's clean, dump that water into the next bottle, put the lid on and shake it. Repeat with the last bottle. You should find that it's almost full, so dump the water into the pot and stir.
Then, stir in the basil leaves. Put the lid on, and when it's boiling, gently drop each meatball in. Let the sauce boil for a bit, stirring gently to avoid breaking the meatballs.
And that's it! The sauce will need to boil a bit before you eventually turn the heat down to low — put the lid on, and let it simmer for about an hour. When you check on the sauce, give it a stir.
You'll know when it's done when — in the words of my mom — it looks cooked.
That night, my first pasta meal with my freshly made sauce shocked me. It was the first time I made a meal that tasted just like home. And now, with my four Tupperware containers full of sauce ready to be frozen, I can have that same meal whenever I need a reminder of home.