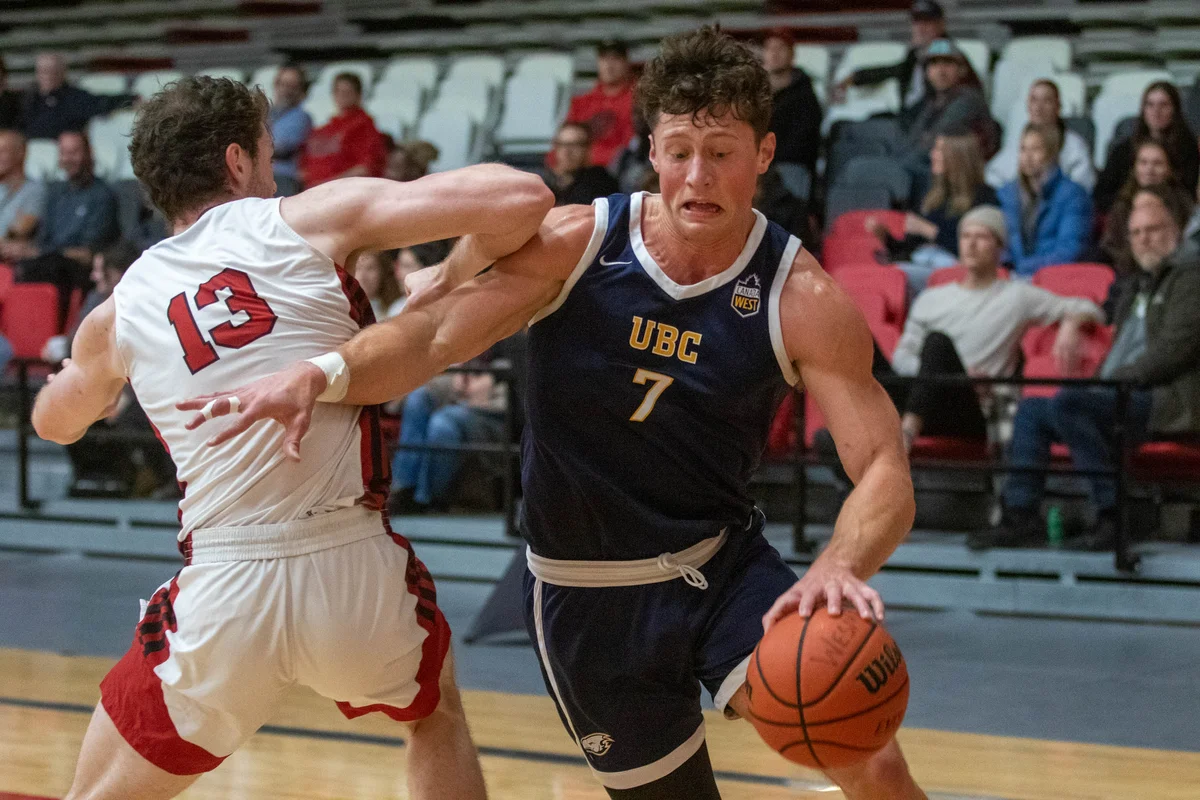 The Thunderbirds made their way to Manitoba's capital to take on the University of Winnipeg Wesmen where they split a two-game series. The 'Birds walked away with a 76–72 win during Friday's game, while dropping Saturday's game by a score of 84–78.
Coming into this season, UBC was ranked second in the Canada West pre-season coaches' poll just ahead of the third place Wesmen, and this weekend delivered an evenly contested matchup between these two heavy hitters.
Opening the action on Friday, the T-Birds started off strong, finishing the first quarter with a seven point lead. The Wesmen would keep it close the rest of the way. The game's largest point differential was ten, and by the end, there were seven lead changes.
The 'Birds came up clutch in the fourth quarter, outscoring their opponent 20–14 in the frame. They solidified the win with a pair of free throws by senior guard James Woods with just under a minute remaining.
Fifth-year forward Brian Wallack was the T-Birds leading scorer, finishing with 15 points, 8 rebounds and 5 assists. That performance was followed up by adaptable forward, Fareed Shittu, who finished with 14 points and was one rebound shy of a double double.
Saturday's game showcased another tough bout between the two squads. However, the Wesmen came out strong early, ending the first with a six point lead. They would go on to double that, getting up to 12 points ahead with five minutes left in the half. But, a solid sequence from the T-Birds spoiled it. Guard Esaie Maurancy played a big part, having a steal and two tough layups through traffic. The Birds' would cut the Wesmen lead, going into the break at 45–41.
A low scoring third for UBC saw them finish with just 11 total in the quarter. They turned it around in the fourth, kicking it off with a hot start offensively and defensively. This was led by Woods who hit a three-pointer cutting the Wesmen lead down to 65–62. But hope for taking over would quickly dissipate due to back-to-back Thunderbird turnovers leading to easy points for the Wesmen.
Woods continued to pile on the points, scoring 14 of his 21 in the fourth. He tied the game at 72 a piece with a baseline floater with just over three minutes to go. But it wasn't enough to complete the comeback as the Wesmen hit multiple shots from deep to pull ahead and maintain the lead.
The T-Birds' looked to their veteran leadership in Woods as well as Wallack, who finished with 23 points and 11 rebounds, while converting 90 per cent on his free throws.
The Thunderbirds, now 3–1 on the season, will look to continue their winning ways as they head to Saskatoon this weekend for a two-game series against the University of Saskatchewan Huskies.