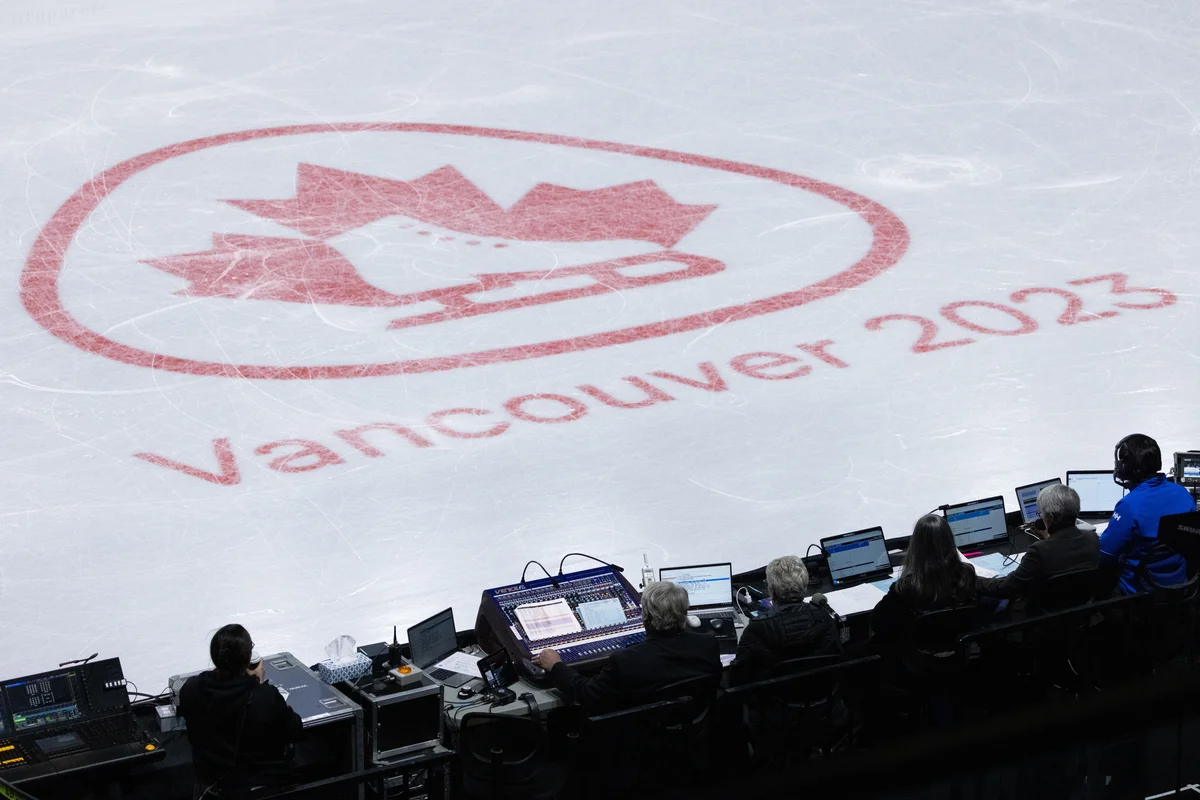 Skate Canada International took over the Doug Mitchell Thunderbird Sports Centre this weekend, with some of the best figure skaters in the world coming to UBC to compete. Fans with flags from all over the world filled the stands, but Canadian skaters got the loudest cheers throughout the event.
Skate Canada is one of six annual Grand Prix events organized by the International Skating Union (ISU). Skaters are assigned to one or two Grand Prix around the world, and the top finishers will compete at the Grand Prix Final this December in Beijing.
Canadian figure skating icon Patrick Chan took to the ice between events — not to compete, but to somewhat successfully use a t-shirt cannon as the event's ambassador.
In ISU figure skating competitions, individuals and pairs of skaters compete in a short and long/free program. Skaters are awarded points based on the difficulty and execution of their program, and the highest combined score from the two skates wins.
Young skaters make their debuts
The men's event served as a proving ground for a crop of young Canadian skaters. For two of them — Wesley Chiu and Aleksa Rakic — this was their first senior international event.
Chiu and Rakic both train in Metro Vancouver, and said it was special to make their debuts close to home.
"I remember being here in the stands when [Skate Canada] was here two years ago, being able to compete here this time is a surreal experience," Chiu said.
"It's very special," Rakic said. "It's at home, my family can come watch and they don't normally go to my international events."
The hometown support was visible in the crowd, with homemade signs and extra loud cheers for the two skaters.
Rakic finished the event in 12th, landing a triple axel in the short program but losing points for several falls in the free skate. Chiu finished the event in seventh, landing a quadruple toe jump in the free program.
Chiu said his biggest take-away from the event was "learning how to handle myself, keep myself composed … lots of clearing the mind and staying calm."
World champion leads women's event
In the women's event, two-time world champion Kaori Sakamoto from Japan showed she isn't giving up the top spot anytime soon.
Despite finishing the short program in first place, Sakamoto had one wrong jump take-off and said she "really felt a need to focus" before the free.
She seemed to do so, finishing the free skate with no mistakes and a dominant score of 151.0, nearly 20 points ahead of the second place free program from current Canadian champion Madeline Schizas.
"I was able to perform exactly how I wanted to perform," Sakamoto said through a translator.
Schizas had a difficult short program, missing or stumbling on several jumps and earning the lowest short program score of her senior career.
"I was quite upset," she said.
It was impossible to tell on Saturday though, as she earned points for landing triple jump after triple jump cleanly, and setting a personal best free skate score.
She looked thrilled coming off the ice, calling the skate a "personal accomplishment."
"I'm taking away that I can skate a clean free, I just need to put my mind to it, and I need to have been well practiced, which I was," she said after the event.
Schizas rose from eighth to finish in fourth place overall, behind Sakamoto, South Korean skater Chaeyeon Kim and Japanese skater Rino Matsuike.
Ice dancers win fourth straight Skate Canada title
Canadian ice dancing pair Piper Gilles and Paul Poirier started the weekend off strong with an '80s-inspired rhythm dance, finishing one point ahead of second-place British team Lilah Fear and Lewis Gibson.
In ice dance, skaters do not complete jumps, instead earning points for synchronous spins, lifts and other choreography.
This event was particularly significant for Gilles and Poirier as it was at last year's Skate Canada that Gilles started to feel ill — what was later discovered to be a cancerous ovarian tumor.
Gilles has since undergone an appendectomy to remove the tumor, but this is one of the first major competitions the pair has competed in since her recovery began.
After the short program, Gilles said returning to Skate Canada had caused some anxiety in "reliving those moments" where she started to feel unwell.
But when asked if the health scare pushed her to retire from competitive skating, Gilles said it did the opposite.
"If anything, it pushed me more to do it. I think skating has become a part of my life, and it's become a great distraction actually, from all the health issues," she said.
On Saturday, their free program to music from Wuthering Heights scored 131.46, winning the pair their fourth consecutive Skate Canada gold.
Gilles attributed their results in part to the pair's maturity, saying they have learned not to over-choreograph their dances.
"I think we're really starting to enjoy each moment … we were so settled from the moment we went out there," she said.
Canadian pair in the spooky spirit
Canadian skaters Deanna Stellato-Dudek and Maxime Deschamps won the pairs event with a triumphant free skate to music from Interview With a Vampire.
"We've been waiting for a performance like this for years," said Stellato-Dudek, who looked emotional when the pair received their scores.
"Last season [we] fell short of doing anything even close to a clean program, so today it felt really good to have a check mark beside every box," she said.
Notably, Stellato-Dudek is the oldest Grand Prix winner ever, having won Skate America last year at 39, and Skate Canada this week at 40. For reference, the second place pairs team, Maria Pavlova and Alexei Sviatchenko from Hungary, are 19 and 24 respectively.
Stellato-Dudek and Deschamps' skate was well-timed for Halloweekend, with both skaters' costumes adorned with rhinestone faux-blood dripping from their necks.
But when asked if the Halloween spirit may have helped them with their win, Stellato-Dudek said "I hope not, because Halloween is almost over and the season is not!"