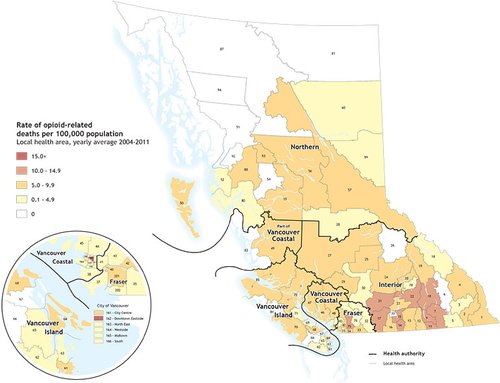 According to a new study at UBC, the over-prescription of opioids — more commonly known as painkillers — has been linked to higher death rates in the province of British Columbia. 
The study was conducted by looking at regional patterns in B.C. from 2003 to 2014 with a search narrowed down to 79 areas. The team sought to look at the social and cultural disparities in access to medicines as well as the quality and safety of the prescriptions. The study, perhaps not too surprisingly, found that there is a significant variation in the prescribing of opioids in that regions with overall higher purchases had higher rates of opioid related deaths on average.
"What's interesting about British Columbia is that we actually have had fairly high rates of prescription opioid use for the past decade. We were above the norm for North America," said Steve Morgan, an economics professor at the School of Population and Public Health.
He went on to add that British Columbia's overall use for the past 10 years, although high, has been quite stable and that only now have other jurisdictions sadly reached the same concerning level.
While the study focused on legal prescriptions, Morgan acknowledged that there are high rates of illicit opioid use in all areas. In fact, the researchers realized that quite a large portion of those who died from opioid related poisoning did not have records of filling prescriptions in the months or years prior to their death.
"There's a fair number of people who appear to have been harmed by these prescription drugs when they either borrowed the medicine from someone else, bought it off of a street market or thieved — as sometimes is the case with people with serious opioid addiction."
Morgan noted that the attention the study received was very positive. The ideas being put forth to help resolve this problem have been very progressive and promising. 
"There's a willingness to have a conversation. The College of Physicians and Surgeons in British Columbia announced last spring that they are looking into either mandating or otherwise increasing the use of the electronic databases that my team used for this study in order to increase their use on a routine basis by doctors that are prescribing these medicines. That's a remarkable level of interest and leadership," explained Morgan.
The team is currently working with health professionals and the government to increase the use of electronic databases that can provide adequate monitoring and surveillance of the prescribing of these medicines in British Columbia. One of their most prominent database is known as "PharmaNet" which is a secure province-wide network that links all British Columbian pharmacies to a central set of data systems. Doctors have access to patient records relating to all prescription medication dispensed to an individual in the province. With this strategy, the team hopes to ward off extreme use of these medicines without harming people who legitimately need the treatment or jeopardizing those who are prescribing the drugs.
"It's important to know that BC is in a really good position to develop solutions for this. We have some of the country's best clinical and research leaders in the areas related to addictions and treatment for them."