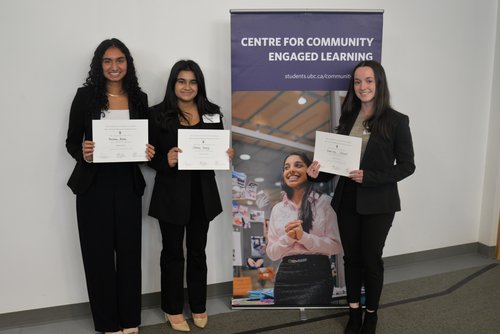 On paper, BC's province-wide sexual education curriculum covers everything from contraception to conflict resolution. But, according to a team of UBC undergraduate researchers, cracks start to show when you look at what's actually happening in classrooms.
Undergraduate science students Raiyana Alibhai, Gabriela Villamil and Jenna Ramji were one of four Canadian winners of the international Map the System contest for their research on sex education in BC.
Map the System is an international research competition focusing on issues of social and environmental change, facilitated by the Centre for Community Engaged Learning (CCEL) at UBC.
"Because the delivery of education is not adequate, students aren't receiving the sexual health education they deserve and that they're entitled to according to sexual health education being a human right," said Alibhai.
Curriculum shaky on consent
The Map the System team found vague language in the provincial curriculum and a lack of teacher training leads to many youth lacking comprehensive sex education (CSE). That leaves them unprepared for relationships, STI's, pregnancy and other aspects of sexuality that can have life-altering consequences.
The team's report defines CSE as education which "empowers young people with the knowledge and skills to make informed decisions about their health, in line with their own beliefs and values." According to UNESCO, it's a human right.
BC's CSE curriculum was redesigned between 2016 and 2019, a recent update that makes it one of the most comprehensive in the country, according to sexual health educator Saleema Noon. It's deliberately broad to give teachers flexibility.
But, that broadness means if a teacher doesn't feel prepared to teach about topics like consent, they won't. In fact, The Tyee reported in 2022 that the word "consent" never actually appears in the curriculum, replaced by vague terms like "healthy relationships."
"The curriculum is good, but what students are actually learning in the classroom can differ based on their school, or their teacher," Alibhai said.
The researchers' Map the System report echoes demands from student protests across the province for better education and policies to address sexual violence in schools. In April, 2022, Victoria high school students demonstrated at the BC Legislature to raise awareness and to demand outsourced education on consent in the classroom.
Steep costs for CSE
To get a comprehensive look at sex ed in BC, Alibhai, Villamil and Ramji interviewed two sexual health educators, including UBC professor Dr. Kristen Gilbert. They also conducted their own survey of BC residents over 18 who had graduated from a BC high school within the past five years.
The team found that not only is CSE delivery not adequate in BC, but it's often inequitable.
"[CSE] quality depends on what school you go to, and ultimately what school district you're in," said Ramji.
Wealthier school districts can outsource sex education to specialized educators. Rural and/or lower-income districts often don't have the same access.
"With rural regions, it's hard to outsource to sexual health educators, because there are less located there," said Alibhai. "There are less sexual health clinics there, and less resources for students to go to when they need this information."
Breaking the cycle of stigma
Alibhai said the lack of CSE creates a self-reinforcing loop of toxic silence around sexuality.
"Shame and stigma lead to adults who are uncomfortable teaching sexual health education, which leads to a lack of knowledge and comfortability of the students, which leads to more shame and stigma," said Alibhai.
The goal of the team's Map the System project was to identify ways to break that cycle. Their report asks the provincial government to increase funding to train and monitor teachers
"One of the suggested interventions that we had for our system was really the need to implement more of a consistent standardized teacher training program," said Ramji. "Teachers are expected to deliver this curriculum but there's no training at all for how to deliver it."
They also advocate for mandated CSE to continue past tenth grade — currently, that's where it stops.
Representing UBC worldwide
Their project started in ISC I360 (Systems Approaches to Regional Sustainability). As the class discussed how the lack of CSE harms women worldwide, Alibhai, Ramji and Villamil began making connections to their experiences growing up in Vancouver.
"We all went to high schools in urban areas and West Vancouver, so we had the opportunity to get outsourced sexual education," said Alibhai. "And as we further looked into this topic, we realized that not every student has the same ... opportunities."
Now, they hope to use Map the System to share the importance of CSE on the global stage as they represent Canada at internationals at Oxford in July.
"Regardless of how far we went into the competition, we were also glad that we were shining a light on this topic, because it's not nearly talked about enough," said Alibhai.
"That was one of the other really positive things coming out of this is more awareness around sexual health education in BC."