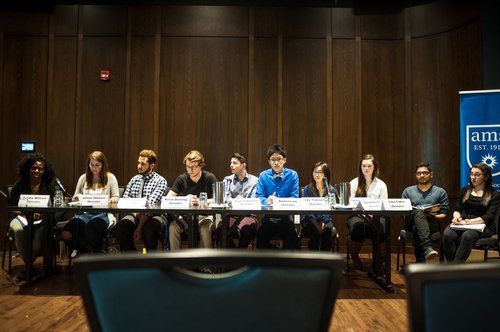 The UBC Senate meets monthly to discuss and vote on academic matters pertaining to the university. What goes on in the Senate chambers can often feel very overwhelming or dull to the average student, and the dockets posted before every Senate meeting can be long and tedious to read. Here's what to expect at the February 2017 Senate meeting:
A f—load of curriculum proposals
A whopping 484 pages out of this 598-page docket are proposals for new courses and programs. This meeting includes 39 courses and five programs that are being introduced or revised. Here are some courses and programs that might be of interest to students:
A new BSc combined honours program in biochemistry and forensic science — because who doesn't want to embrace their inner Sherlock, right?
A new bachelor of design in architecture, landscape architecture and urbanism
ANTH 435 —The Japanese Tea Ceremony: Ethnography of Performance, Practice and Ritual
PSYC 216 — Questioning Psychological Science in the Media
APBI 319 — Aquaculture and the Environment
UBC Tuum Est Experiential Award
This is a pilot award that UBC is introducing and will be approved in Senate next meeting. The university will offer approximately 200 one-time entrance awards up to $3,500 for domestic students entering from high school to help support their participation in experiential learning opportunities, including co-op, exchange, ISL opportunities and undergraduate research. It was strategically designed in order to attract students to take advantage of what learning opportunities UBC has to offer. The first award will be available in 2017/18.
Admissions targets
Senate will be approving the admissions targets for the upcoming year. Next year, UBC is expected to take in 11,917 new undergraduate students, including 3,362 international students. The newcomers to UBC will include:
1,243 applied science students
3,923 arts students
40 dentistry students
323 education students
360 forestry students
534 land and food systems students
952 commerce students
2,141 science students
450 Vantage College students
1,951 unclassified students.
This next Senate meeting will take place on February 15 at 6 p.m. in the Victoria Lecture Theatre (IKBLC 182). You can read all 598 pages of the Senate docket online and as usual, Senate is open for anyone to attend if you're ever interested in academic affairs or meeting Santa Ono.
Daniel Lam is a third-year atmospheric science student and a student senator at large. His views expressed do not reflect those of the Student Senate Caucus or the UBC Senate.