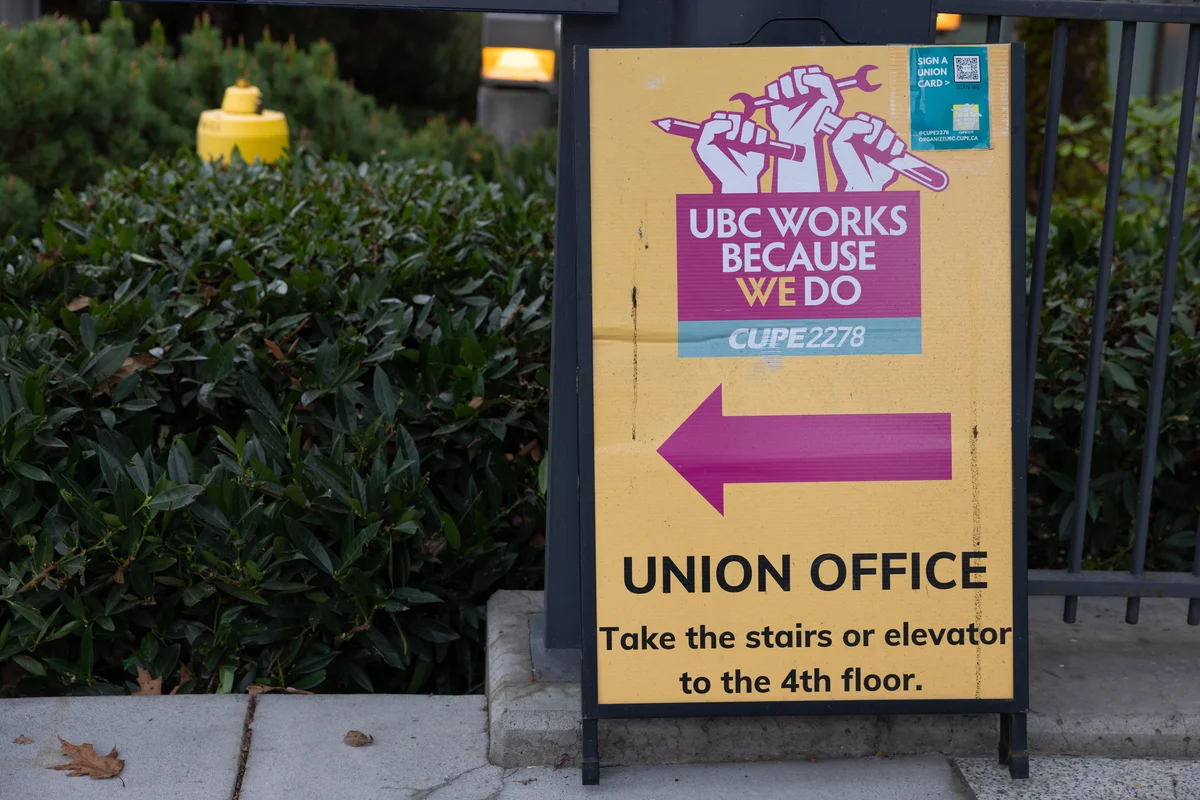 José Reyeros (he/him) is a Mexican fifth-year student in Geography focusing on climate justice. His research has covered topics from fossil-free research to ocean conservation. He's passionate about social good and is working on the Organize UBC campaign.
The 2022/23 annual AMS Academic Experience Survey found that only 11 per cent of students believe that UBC cares about their opinion on the cost of education. If annual tuition increases weren't enough stress for students, UBC pays Work Learns at low and disproportionate rates, with most positions paying between $18 and $22 per hour.
Many Work Learn employees — myself included — make just above minimum wage, and nearly all available positions earn less than a living wage, which is $24.08 per hour for Metro Vancouver, according to Living Wage for Families BC.
For many students, developing applied and employable skills in our area of study is important. That is also a luxury for many. Balancing our professional interests with a decent wage is tough. With only a limited number of Work Learn positions for over 70,000 undergraduate students, many students are forced to work off campus. On top of that, the federal government's policy allowing international students to work over 20 hours per week off campus is about to expire at the end of the year, making us rely even more on Work Learn positions.
How can students afford to live and study in Vancouver like this?
For many, being a Work Learn isn't just about work experience or extra spending money — it's a financial lifeline.
These paycheques determine whether or not we can pay rent on time or afford groceries this month. For this reason, Work Learn jobs mean a lot more than your employer may know.
I know this from my own experience. I hold a Work Learn position, but since these positions are limited to only 10 hours per week, I also work two additional jobs and am a full-time international student. I'm able-bodied and have found the capacity to work this much, but not getting enough sleep or time for myself is unsustainable.
This situation also limits my access to scholarships, as finding ones I'm eligible for can be difficult when I have to trade my grades for employment across three jobs.
What have I learned from this madness? My time and work are valuable, very valuable.
Often as Work Learns in our first "office/lab job" we feel like we just had our professional "big break." In a labor market based on experience, we truly rely on trust from an employer to get a chance to earn money beyond serving or washing dishes. But the truth is that students deserve decent wages regardless of their level of experience or field of work. To advocate for fair compensation and working safety means we must raise our voices and do it together. 
Student workers, like all Vancouver working residents, are facing an affordability crisis. We have seen students protest for food insecurity or refute tuition increases. Yet, as reflected in the AMS Academic Experience Survey, students continue to face financial hardship related to tuition and other expenses and food insecurity. 
That is why Work Learn employees need to act. 
Organize UBC is collecting Work Learn signatures to formally unionize Work Learn students with the Canadian Union of Public Employees (CUPE). The goal of the campaign is to add Work Learn students engaged in academic work (holding titles like Academic Assistant, Research Assistant or Project Assistant) to the Teaching Assistant Union, CUPE 2278.
Unions are democratically run, non-profit organizations that fight for better wages, paid sick leave, paid vacation, fair working conditions and improvements to your work, academic and life balance. Rather than having to advocate for ourselves individually, joining a union means we can stand together with a collective voice.
If we collect 55 percent of signatures of Work Learns holding these types of positions, we will directly support the financial lifeline of fellow undergraduate students at UBC by unionizing our workforce.
All student workers on UBC's campus deserve to make a living wage. Teaching Assistants and Residence Advisors have both unionized and achieved this. Student workers have been joining together across different job titles and this value of uniting together is growing across the institution. Last spring and summer, thousands of Graduate Research Assistants and Academic Assistants signed union cards to join the Teaching Assistant union. If Work Learn students join too, then all students across campus engaged in academic work will be represented.
As a fifth-year international student that wants younger students to not have it as hard, my message is that unionizing is simple. If you are a Work Learn student holding an academic job with a title like Research Assistant, Academic Assistant, or Project Assistant, all you need to do is sign a card on the Organize UBC website, share it with a friend, and let CUPE take it from there.
You may not think you need it now, but as someone who's been in different Work Learn positions, you will thank me next term.
This is an opinion letter. It does not reflect the opinions of The Ubyssey as a whole. You can submit an opinion at ubyssey.ca/pages/submit-an-opinion.