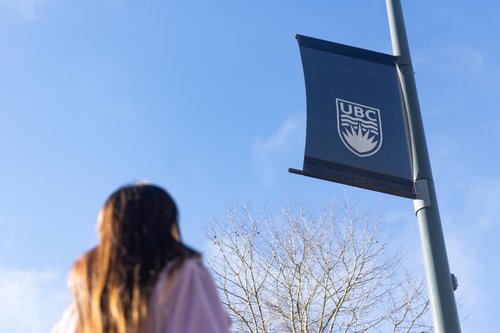 UBC announced the winners of the inaugural Envisioning Equality Art Project, aimed at making UBC more gender-inclusive, on International Women's Day.
Five faculty members — Melania Alvarez, Nadine Caron, Ryuko Kubota, Sheryl Staub-French and Sabrina Wong — and five staff members — Michelle Cameron, Em Mittertreiner, Shawna Narayan, Deb Pickman and Afsaneh Sharif — were chosen as winners.
The project will showcase achievements of these ten staff and faculty members through banners to be hung up around campus in 2023. Barbara Cole, the curator of outdoor art at the Morris and Helen Belkin Art Gallery, and an artist selection panel will select artists to create the banners.
"Everything we do as a society depends upon the skills, talents and contributions of women and gender-diverse individuals around the world. I would like to congratulate the Envisioning Equity recipients, and to say a heartfelt thank-you for all that you do at UBC, and in the community," President Santa Ono wrote in a post about the winners.
The Ubyssey spoke to a few of the winners about what this honor means to them.
Staub-French, is the associate dean of equity, diversity and inclusion in the faculty of applied science and a professor in the department of civil engineering. As a graduate student, she created a new mentoring program for LGBTQ+ students.
Staub-French later became the cohort professor for Women In Engineering to help increase the outreach via Geering Up. Her recent work revolves around equity, diversity and inclusion by educating people about artificial intelligence so that they can teach and become part of the larger conversation.
Staub-French spoke of her experiences being treated differently than her male colleagues in an interview with The Ubyssey and expressed excitement about the project.
"I love the idea of [the project] being kind of this public display along the main mall and hopefully, it'll be a way to reach people in a different way," said Staub-French.
Another winner is Em Mittertreiner who works as the student director at the UBC Climate Hub. They are a fourth-year honours psychology student with a minor in gender, race, sexuality and social justice. They said that having their efforts acknowledged in a creative way feels special.
"I love the intentions and goals of the project, and I'm so excited to see how the banners turn out," Mittertreiner told The Ubyssey in an email.
Mittertreiner said that being a non-binary person, they would love to have their banner reflect their gender so that other gender-diverse students feel represented.
"I'm not quite sure what [the banner] would look like — maybe having my pronouns on the banner somewhere, or having the banner use the colours of the trans flag! I'm excited to see what the artists come up with."
Deb Pickman, who works on special projects at UBC Arts Culture District, won the award for her contribution mentoring students and helping them actualize their artistic ambitions. She works in collaboration with UBC Exposure and with the assistance of WorkLearn students. UBC Arts and Culture District also organizes an annual Artivism festival that was initiated by Pickman.
"I think [the project] will encourage [students] to follow their bliss in terms of being engaged in meaningful ways," Pickman said.