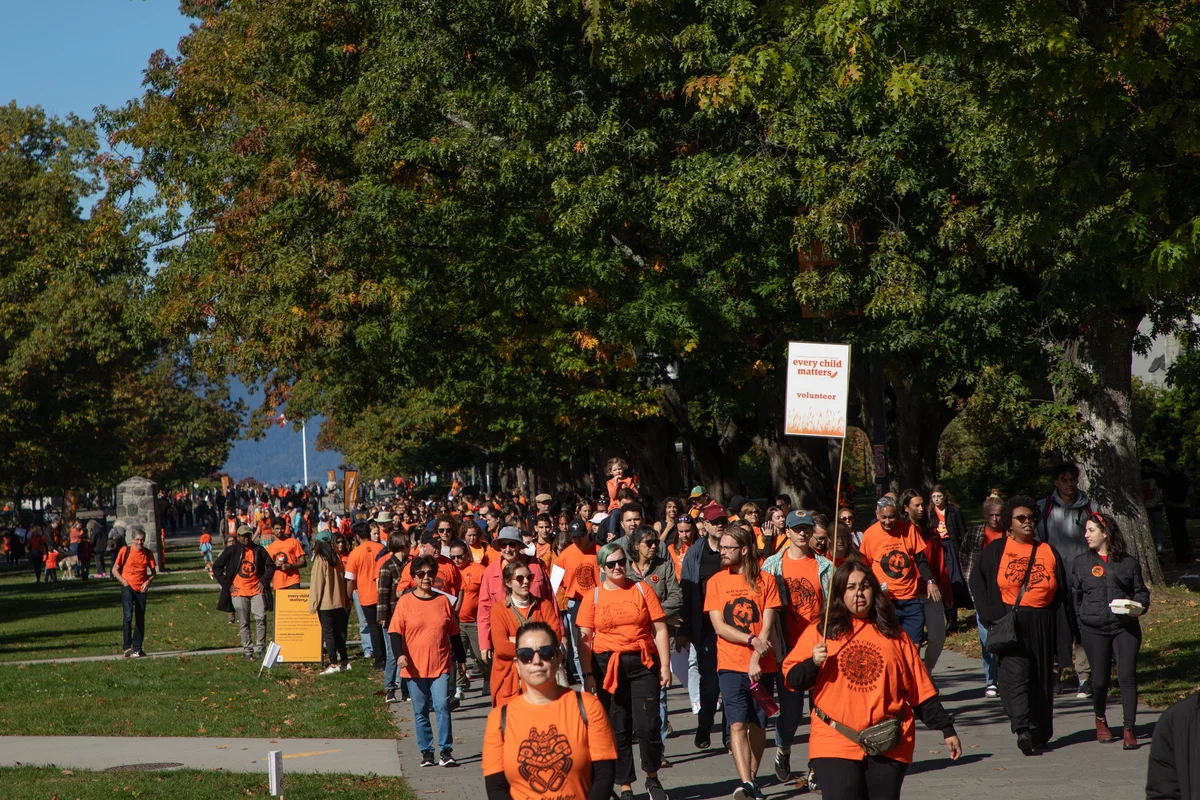 On September 30, UBC rounded off Truth and Reconciliation week with the third annual Intergenerational March in support of residential school survivors and their families.
The event, organized by the Faculty of Land and Food Systems (LFS) and Faculty of Applied Science, began in front of the Indian Residential School History and Dialogue Centre with an opening speech from Elder Doris Fox of the Musqueam Nation, which welcomed attendees to the traditional, unceded and ancestral territory of the Musqueam people and explained the importance of the occasion.
"I hated September because all my cousins would leave the community and I felt alone," Fox said in her speech. "So when you wear your orange shirt, remember there are hundreds of thousands of stories attached to those shirts."
"When I come here and I see these shirts, it lifts my heart. It lifts my spirit," Fox said.
Orange shirts are worn to honour writer, activist and residential school survivor Phyllis Webstad, whose orange shirt was taken from her upon her arrival to the school. Her story has come to represent the intergenerational impacts of the residential school system on Indigenous families.
"On this day [we] commemorate the survivors, their children [and] the ones who didn't come home," said Dana-Lyn Mackenzie, Senior Manager EDI and Indigeneity at the Faculty of Applied Science and member of the Hwlitsum First Nation.
The ceremony continued with remarks from Musqueam Nation's Intergovernmental Affairs Officer Wade Grant and a song and dance performance from Tsatsu Stalqayu (Coastal Wolfpack).
"I hugged my two young children a little bit harder this morning. Because I know if they were born 50 years ago, I wouldn't have been able to hug them this morning because they would have been at a residential school," said Grant in his speech.
Afterwards, crowds marched from the Dialogue Centre to the Reconciliation Pole, observing, sharing and listening to each other along the way.
The event continued as crowds gathered to listen to Elder John Jones of the Snuneymuxw First Nation as he recounted some traumatic memories of his time at the Alberni Residential School.
"The reason I'm sharing with you is not to guilt trip you or blame you," said Jones. "It's a part of history that was untold, a part of history that we weren't allowed to talk about."
As Jones held back tears, he shared glimpses of his childhood while in the residential school.
"I wrote two kinds of letters home to my mom. I wrote her happy letters…[and] I also wrote home sad letters telling her about the abuse that I've gone through. And I know my mom read that because when she used to come and visit us, she used to ask me about the friends I made, the games I played," Jones recounted.
"And as an adult again, I found out that every letter that was sent out by students was proofread. So any of the bad letters didn't get home."
As the ceremony closed and crowds dispersed, some moved to the Engineering Cairn, applying a fresh layer of orange paint and messages of solidarity.
"No matter what nationality, religion, where your home is, who you are, who you think you are, who you know you are, we are all one family. We are all human beings sitting in the same canoe," Fox said.
Her words echoed throughout the day. "We are all one."