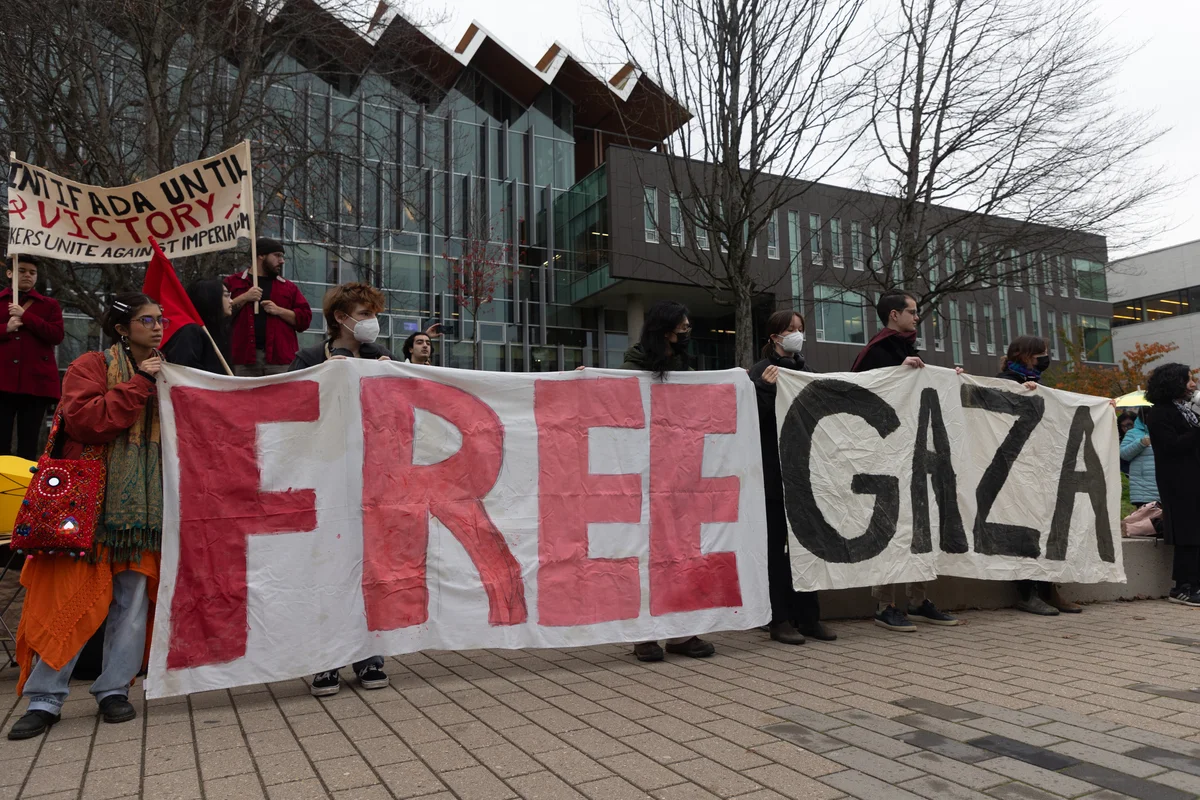 UBC community members gathered outside the Nest in support of Palestine on November 9.
Chants of "free, free, Palestine," and "the people united will never be defeated," reverberated through the crowd.
This is the second walkout on campus after one on October 25. The walkout was organized by Fightback Vancouver with support from the UBC Solidarity for Palestinian Human Rights (SPHR) and the UBC Social Justice Centre.
During the walkout, students condemned the AMS and UBC's response to the ongoing violence in Israel and Palestine.
One speaker criticized UBC President Benoit-Antoine Bacon's statement on the violence.
"As the war continues to unfold in Israel and Gaza, the violence, tension and uncertainty is understandably putting significant strain on our community," wrote Bacon.
Bacon said no hate or racism will be tolerated at UBC and "the university takes very seriously its responsibility to look into these reports and to act in accordance with our policies."
"I don't think our experiences with harassment are what the admin had in mind when they wrote this statement," said the speaker.
In a statement to The Ubyssey, Mathew Ramsey, director of university affairs at UBC Media Relations, wrote "The university provided statements on this matter to ensure all of our community members are aware of the resources available to support them, that their safety and well-being is important, and that we all need for remain respectful and compassionate to one another in these challenging times."
Another speaker read a letter addressed to the AMS executives to express their "disappointment at the AMS's inaction on the growing climate of anti-Palestinian racism on campus."
After the speeches, the walkout moved to the President's Office in Koerner Library. Demonstrations and speeches continued at Koerner Library with protesters chanting "end the siege on Gaza now," and "the world is watching, let Gaza live."
"We do not want debate. We do not want thoughts and prayers. We want action," shouted one speaker.
The Ubyssey requested a comment from the AMS but did not hear back by publishing time.