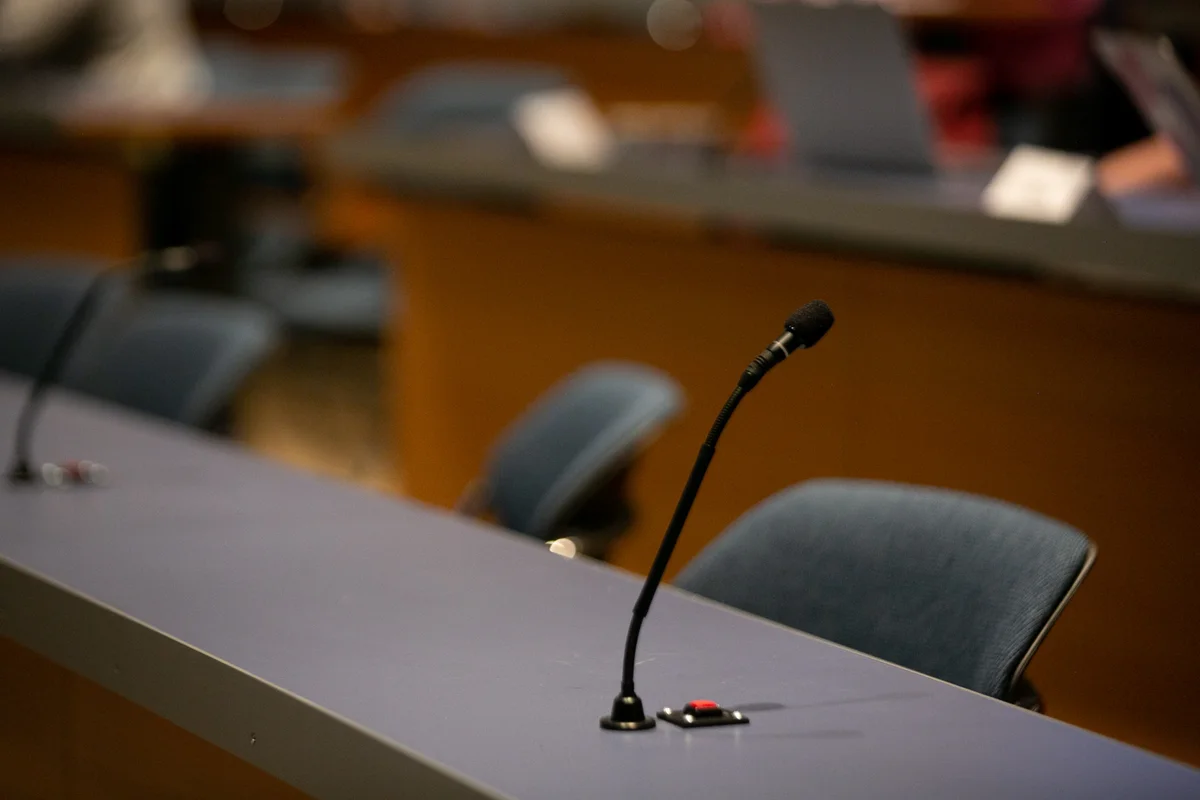 The UBC Vancouver Senate met Wednesday night to discuss course scheduling, international agreements and graduate regalia amendments for Indigenous students.
Here's what you might have missed.
Thursday, October 12 will be a "makeup Monday"
Senators discussed and approved a motion to designate Thursday, October 12 a "makeup" Monday. Regular Thursday classes will be cancelled and replaced by Monday scheduling now that the motion has passed.
According to faculty senator Kin Lo, who brought forward the motion as chair of the Academic Policy Committee, there will be only 10 Mondays in term 1 of winter session 2023/24, while other weekdays will have between 12 and 14 class sessions, due to holidays. By the midpoint of the semester, there will have been three in-session Mondays, compared to five or six in-session days for all other weekdays, he added.
Lo said the motion would allow courses with multiple sections to better align their schedule, as well as make class hours equitable for courses that meet on different days of the week.
Senator Carol Jaeger said while she "appreciate[d] the math that's gone into [the motion]," she wished there had been "more notice." In particular, she noted that scheduling for some course intensive degrees has already been planned.
Other faculty senators expressed concern about the impact of this change on labs scheduled for Thursdays.
Senator Charles Menzies also noted this would create difficulties for students who work full or part-time jobs. He told the Senate students already come to him with requests for extensions due to the inflexibility of their work environment.
The motion passed.
International agreement with Chulalongkorn University approved
The Senate passed a motion, after repeated previous deferrals, to approve the affiliation between Allard School of Law and Chulalongkorn University in Thailand.
The memorandum of understanding between the two universities, initiated 24 years ago, allows faculty from UBC to teach courses offered at the Chulalongkorn law school. The memorandum does not cover student exchanges or joint degree programs.
The Senate had asked for a report to be produced on how UBC should enter international agreements with countries that have poor human rights records before future votes on these agreements.
Vice-Provost Rumee Ahmed gave a verbal presentation on this topic at the March Senate meeting — which Jaegar, who brought the motion forward on behalf of the Admissions Committee, said the committee interpreted as the promised report.
But, many senators said the presentation did not address guidelines on entering into academic agreements with universities located in countries with poor records on academic freedom.
Senators discussed the merits of arrangements with international universities, such as promoting rule of law and human rights. Others pointed out that continuing to pass individual motions without addressing the underlying issue of a lack of consistent framework was concerning.
The motion passed, despite several abstentions and votes against.
Indigenous students to be allowed to adorn graduation regalia
The Senate also passed a motion allowing 2023 graduates to adorn mortarboard caps to reflect their Indigenous identity.
Indigenous students are currently allowed to incorporate traditional regalia into their dress for graduation ceremonies, but not alter the academic regalia of gown, hood and mortarboard.
Students in the Bachelor of Nsyilxcn Fluency at UBC Okanagan and students in the Indigenous Teacher Education Program (NITEP) at UBC Vancouver had contacted UBC Ceremonies and Events and requested to be allowed to modify academic regalia, including adding beading.
Liz King, director of Ceremonies and Events at UBC, said this motion could "open the door," for other requests.
"The motion is really around 2023 at the time, so that we can accommodate the requests that are in front of us, take in other requests, and consider those thoughtfully."