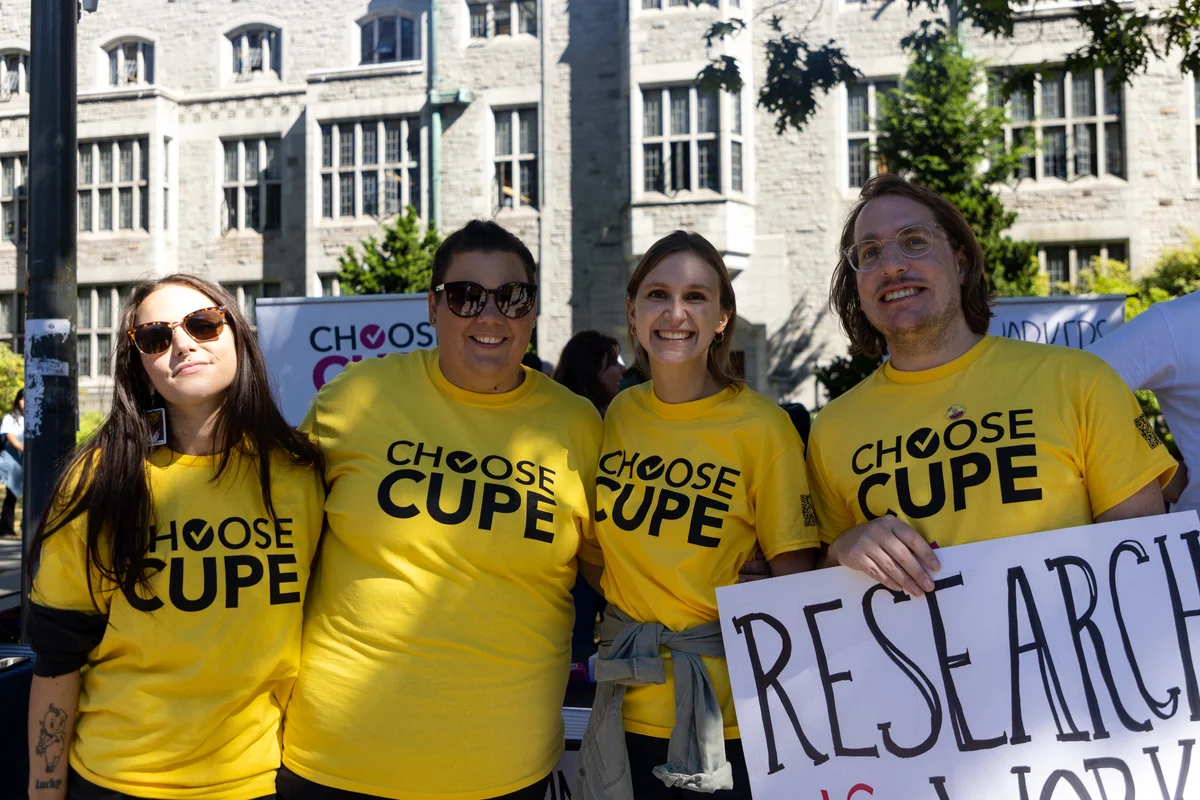 A group of undergraduate and graduate students have launched a campaign to unionize research assistants and academic assistants at UBC.
The Canadian Union of Public Employees (CUPE) 2278 — the union that currently represents teaching assistants (TAs), tutors, markers and instructors in the English Language Institute at UBC — announced the campaign on social media Tuesday morning.
"For far too long, research assistants and academic assistants have endured low wages, no job protections, and poor working conditions. We say enough is enough! All student workers deserve enough money to live and the job security that a union provides," the Instagram post's caption read.
In an interview with The Ubyssey, Phyllis Pearson, CUPE 2278 president and PhD philosophy student, said the campaign wants to include any student who does academic work, including work learn students if possible.
"We're still trying to learn how work learn [students] are paid — it's a little complicated. But we're definitely not trying to exclude anyone," she said.
Pearson said the campaign — which soft launched on September 1 — comes after three years of interest from undergraduate and graduate students. She said the team decided to start the campaign now based on committed interest, as well as changes in BC labour laws which could make unionization easier.
In May, the BC legislature passed an amendment to the BC Labour Relations Code that would automatically certify a group as a union if 55 per cent of employees sign onto union cards signaling support. Previously, a potential union needed 45 per cent of employees to sign union cards and then have a vote among all employees to decide whether or not to unionize. 
Under the amended BC Labour Relations Code, a vote can still take place if only 45 per cent sign on to the campaign.
In previous student unionization campaigns at UBC, eligible employees have voted overwhelmingly in favour of unionizing after well-over 45 per cent signed onto cards.
Pearson said the team did not have an exact number of eligible employees — "There's a couple of different figures you could go with, but we think upwards of 10,000" — but that the campaign hopes to surpass the 55 per cent threshold.
"We want to show you a really strong campaign. We're looking for like 6,000, 7,000."
To reach this number, Pearson said the team is hoping to find student representatives in academic departments around UBC to "learn about their concerns and speak to their concerns."
In a statement sent to The Ubyssey, Matthew Ramsey, director of university affairs at UBC media relations wrote that "UBC respects the right of individuals to organize pursuant to the provisions of the Labour Relations Code and the university's labour relations environment."
Pearson added that the campaign hoped to submit all its signatures within six months of the launch date. Signatures are valid for six months after signing a card.
"We've had a lot of really good feedback so far, so I'm hopeful," Pearson said.