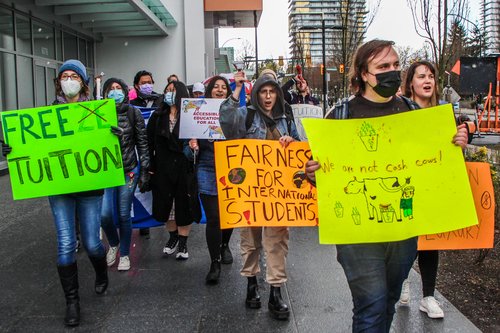 Dozens of students gathered outside of the Minister of Advanced Education's office yesterday to protest against tuition increases.
The protest was organized by Tuition Freeze Now, a coalition of BC students, workers and organizers. The central demand of the protest was a provincial tuition freeze.
The demonstration started at the Metrotown SkyTrain station around 12:30 p.m. and made its way to Minister of Advanced Education Anne Kang's office a few blocks away from the station.
Emily Cadger, the vice-president of CUPE 2278, UBC's TA union, said the issue of tuition increases and unaffordable education united the TA unions at Simon Fraser University (SFU) and the University of Victoria (UVic). The unions decided to mobilize on the issue back in February.
Several students spoke during the protest, including international UVic student Sude Guvendik, who spoke about the province's history of tuition increases.
"Tuition has increased 200 per cent in the last 20 years," she said. "Only rich students can afford education. This is unacceptable."
In 1999/2000, the tuition fee for a full-time arts student at UBC was $2,295, according to UBC's annual report from that year. Factoring in inflation, $2,295 is $3,580.30 in today's Canadian dollars. Today, the tuition fee for a full-time domestic arts student at UBC is $5,729.10 — about a 60 per cent increase from 2000.
However, this 200 per cent figure may be more accurate for international students, whose tuition increased by nearly 50 per cent between 2015 and 2018.
Domestic tuition increases are capped at two per cent due to the province's Tuition Limit Policy, but there are no provincial caps on international student tuition increases.
Evan Stefanek, a master's student at UVic, told The Ubyssey that he thinks a tuition freeze would be a "reasonable demand" to help students struggling financially.
"Tuition is going up, housing is going up, cost of living is going up," Stefanek said. "I think [those rising costs will] limit the amount of international students that come here."
Even though the majority of the rally took part right outside of Kang's office, no officials came out to speak with the protesters.
In a written statement to The Ubyssey, Kang said she "appreciates" student advocacy on affordable education. She mentioned what the current BC government has done for students thus far.
"We ended interest payments on student loans, launched the BC Access Grant and we're building over 6,000 student housing beds . . . so more students can find affordable housing."
Kang said that though these are significant strides, her office has "more to do" and will "keep working with students to continue to make post-secondary education more affordable."
When asked why she attended the protest, Catherine Dube, a SFU student, said she hoped the rally could "bring back the conversation [on] rising tuition fees."
Stefanek said failure to address the tuition issue in BC would only reap negative consequences.
"You need lots of money to come to university," he said. "That's a huge limiting factor for students that will only get worse with continuous tuition increases."