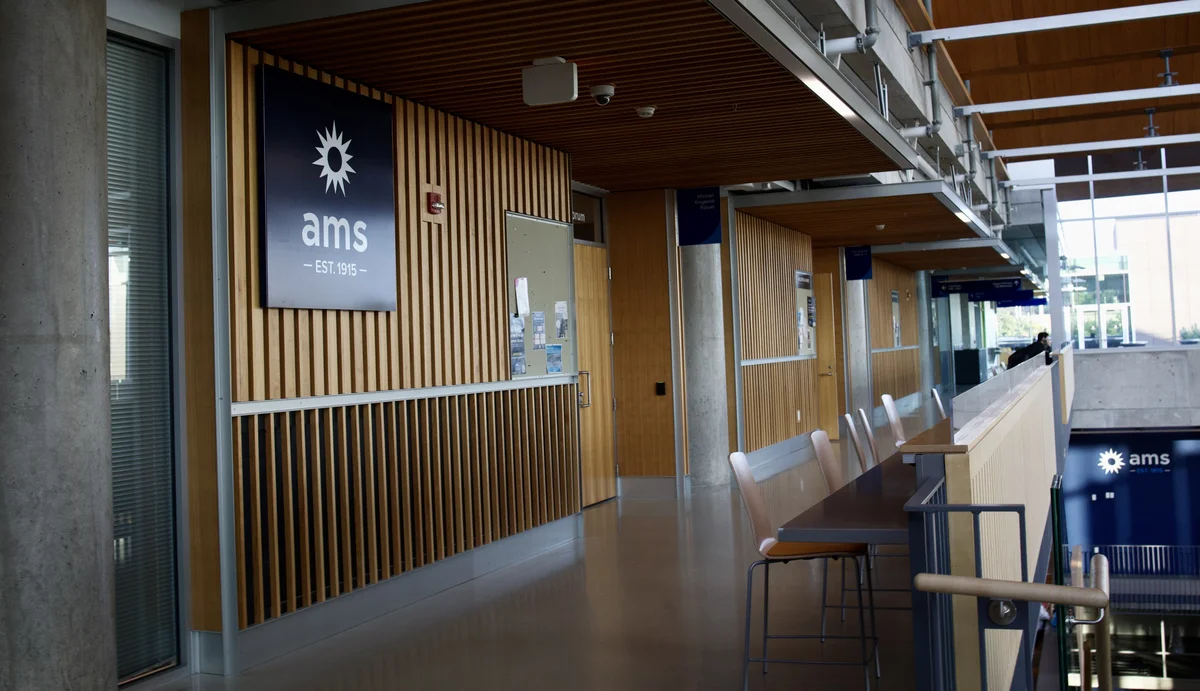 Last night, over 100 students gathered to show their support for the Jewish and Palestinian communities on campus and called on AMS Council to act following increased antisemitism and Islamophobia.
On October 7, Hamas launched an attack on Israel. Following the attack, Israel's government formally declared war on Hamas, with the defense minister calling for a "complete siege" of Gaza. The United Nations Secretary-General called for an immediate ceasefire on October 24.
The AMS has released no public statement related to the conflict. UBC released a statement with resources available.
In June 2022, the AMS released a statement condemning the Israeli occupation of Palestine and passed a motion to call on UBC to divest from companies complicit in Palestinian human rights violations. UBC, however, did not support the motion.
Five students spoke at the meeting about their personal experiences and voicing dissatisfaction with the university and AMS' response to the current conflict.
Here's what you might have missed.
Jewish students speak on rising antisemitism across Canada
"In light of the single deadliest day for the Jewish people since the Holocaust, the AMS elected to remain silent," said the first student-at-large Adam. Many of the student-at-large only identified themselves by first names. Adam pointed to the 1,500 people that were killed, including the death of 22-year-old Vancouverite, Ben Mizrachi.
Amidst the conflict, he said that the Jewish community has seen an unprecedented rise in antisemitism. Adam said a community vigil on campus following the Hamas attack was conducted with an RCMP presence. "I'm here to sound the alarm about the deteriorating safe climate for Jewish and Muslim students," he said.
The next student-at-large Eitan spoke about antisemitic acts on other campuses in North America, citing vandalism and public harassment at UPenn and UofT.
"I am not safe wearing my head cover in public," said Eitan.
Another student-at-large Jillian spoke about her personal experiences of antisemitism when she attended McGill University, where she was verbally assaulted for being Jewish. She transferred to UBC to "escape that hatred," and did not expect antisemitism to follow her. She said all students deserve a campus free of discrimination and harassment.
She ended her speech by addressing her Muslim and Palestinian peers, saying the Jewish community relates to their feelings of marginalization.
"We understand you, we hear you and we relate to you," she said.
SPHR and SJC representatives call on the AMS to act
Two additional students-at-large spoke on behalf of UBC Solidarity for Palestinian Human Rights (SPHR) and the UBC Social Justice Centre, calling for additional support from the AMS.
"Over 17 days, 1.4 million Palestinians have been internally displaced in their own homeland," said one of the student-at-large.
She said she was speaking on behalf of her Palestinian peers who could not speak due to safety concerns.
"This university has done nothing to condemn the genocide against Palestinians," she said. She called this silence "deafening"
A second speaker from SPHR said campus has become "incredibly unsafe" for Palestinians, Muslims and Arabs.
She said SPHR has received numerous racist emails, with one targeting a member by name. She said Palestinian posters on campus had been ripped or stolen.
"Why isn't the safety of Palestinian students on this campus a priority for UBC?" she said.
After these comments, AMS President Esmé Decker responded by thanking all the speakers acknowledging the courage it took to share their perspectives.
"The whole AMS team is here to mediate and de-escalate situations ... and we're very happy to speak with folks individually as well," she said. Decker also said the AMS Peer Support team is available for walk-ins and appointments.
"All students should be able to feel safe."