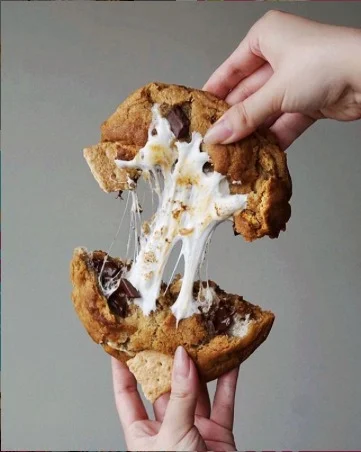 Just three years ago, Andy Nguyen never imagined that today he would be running a thriving cookie business.
Nguyen, alongside his sister Jessica, founded Bak'd Cookies, which sells signature gourmet cookies online and at farmer's markets across the Lower Mainland. Nguyen is also a third-year commerce student specializing in accounting and operations logistics – skills which have proven very useful in running Bak'd.
Nguyen "always had a passion for food," and even considered attending culinary school before landing on UBC for his post-secondary studies. Entrepreneurship, too, has long been an interest for him – though he expected to be "a lot older with a lot more experience" before opening his own business. An unexpected source gave the Nguyen siblings the opportunity to pursue their business: the COVID-19 pandemic.
Shortly before the pandemic, while still a high school student, Nguyen worked at the Gabi & Jules bakery in Port Moody, where he "fell in love" with baking. With the start of the pandemic, he was let go from his position at the bakery – but, he said, "like everyone else during [COVID-19], I was just baking up a storm."
During this time, Nguyen's sister challenged him to perfect a chocolate chip cookie recipe, documenting his journey on her Instagram stories. Soon the siblings were overwhelmed with cookie requests from family, friends and, eventually, complete strangers — enough requests that they decided to start Bak'd.
Nguyen described their rapid success as overwhelming. They divided the work between Nguyen and his sister, mother and cousin, who were "staying up all throughout the night, pulling all nighters to bake." By the summer of 2020, they had moved into a commercial kitchen after it became impossible to meet demand from their home kitchen.
"It's just baffling to see how many people like cookies."
From there, Bak'd has continued to expand, now making between 2,000 and 3,500 cookies per week and employing a team of 14 bakers and 2 salespeople. For Nguyen, the staggering growth of Bak'd accompanied his transition into university, first online and then in-person. As a commerce student, Nguyen says, Bak'd offers him the unique opportunity to directly apply what he learns in class and see its outcomes firsthand.
That said, it is not always easy to balance the business on top of his studies – in busy periods like the recent Valentine's Day rush, Nguyen estimated that he spends upwards of 30 hours per week on both the back-end of the business and working shifts in the kitchen. Nguyen pointed to the support of Bak'd's employee team, many of whom are students themselves, for offering him the flexibility and support to grow the business while in school. His true passion for the business, and the opportunity for community amongst the 80 businesses with whom Bak'd shares a commissary kitchen, lend further value to the experience.
Beyond his studies at UBC, Nguyen said he hoped to continue expanding Bak'd alongside his sister. While the two "disagree on a lot of things," Nguyen said that their closeness and complementary skill sets allow them to make quick decisions and work well together, with food as their common ground.
The pair hope to soon open a storefront for Bak'd, and Nguyen has no plans to step away from the business now – or ever. He said that he plans to "avoid ever working a corporate job and to have cookies for the rest of my life."
"If this is my final job, I'm very happy with it and I would want nothing else."