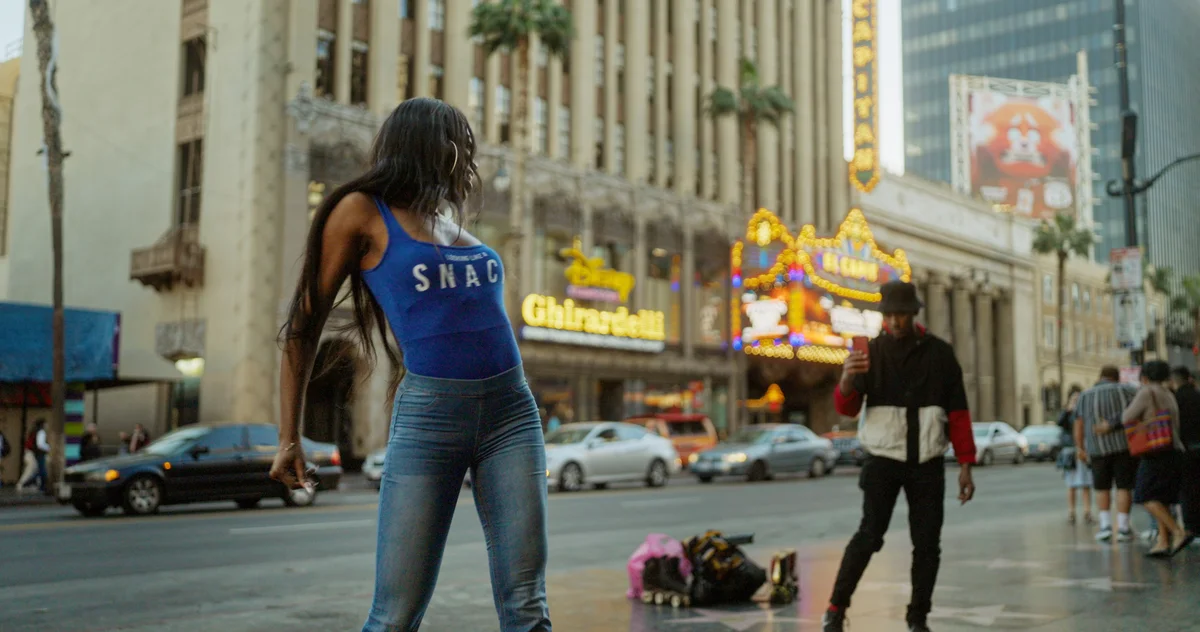 If you have ever doomscrolled on a social media app, consider yourself a victim of the attention economy. Thirst-traps, stunts, fake news and controversies — the time you spend scrolling on social media is a currency that these apps and influencers thrive on. But how much are influencers willing to risk for your attention?
UBC film grad Tyler Funk had that same question. This issue became a reality for Funk when his close friend David, who loved to seek attention with his outrageous stunts, lost his life by jumping off a bridge.
A few years later, Anything for Fame was born, with Funk at the helm as its writer and director.
The documentary features five influencers who have broken social norms and done "anything for fame." From climbing the Golden Gate bridge, to being a full-time Onlyfans creator to shock-value Vine-like comedy — these influencers go to the extremes of creating content on social media to earn validation through likes and followers.
The documentary follows a three-part storyline. It's a look into how creators and influencers think, showcasing their highs, lows and the challenges they face.
"People don't just reject all the rules of society without some other stuff going on. Some people are so quick to write off influencers as young dumb kids. For some people… it is a cry for help. For other people it is more just pushing that fine line of entertainment," said Funk.
Sometimes I come across a TikTok that makes me think, 'what drives these people?' — this documentary certainly answers that question.
Funk's choice of influencers featured in the documentary may not be a complete representation of all social media creators, but aptly captures the essence of being both a product and a consumer. The creators provide vulnerable facts about themselves — some of which may not be for the faint of heart.
Anything for Fame explores themes of imposter syndrome, loneliness, dissatisfaction and mental and physical loss as a creator. It also dives into the effects of extreme, attention-driven behaviours on not just the creators themselves, but the people who interact with them and those inspired by them.
Just when you think you know enough about what goes on behind the scenes, the film peels back yet another layer, unravelling this complex influencer phenomenon. It's like you've been placed directly inside the minds of these influencers and are taking in the good, the bad and the ugly of it all — and you can't take your eyes off of it.
According to Funk, the documentary is meant to simulate your Instagram feed. It jumps from creator to creator, with new additions to their story in every scene as if we are watching their life unfold through their social media accounts.
The knowledge-packed 85 minutes ebb and flow between highbrow facts and figures and TMI life details. If you're not too overwhelmed by either and are interested in almost an hour and a half of super zoomed-in character breakdown — or are simply interested in learning how an influencer's mind works — this film is for you.
Anything for Fame's creative team has several ties to UBC. Apart from Funk, other alum who worked on this film include Sebastian Mercado (editor and sound production), Peter Planta (cinematographer) and Christopher Lorenz (co-writer, assistant director, and assistant editor). The film's story editor, Lynne Stopkewich, also taught Funk during his time at UBC.
Anything for Fame was originally released in 2022 and recently became available to stream on the National Film Board website for free.