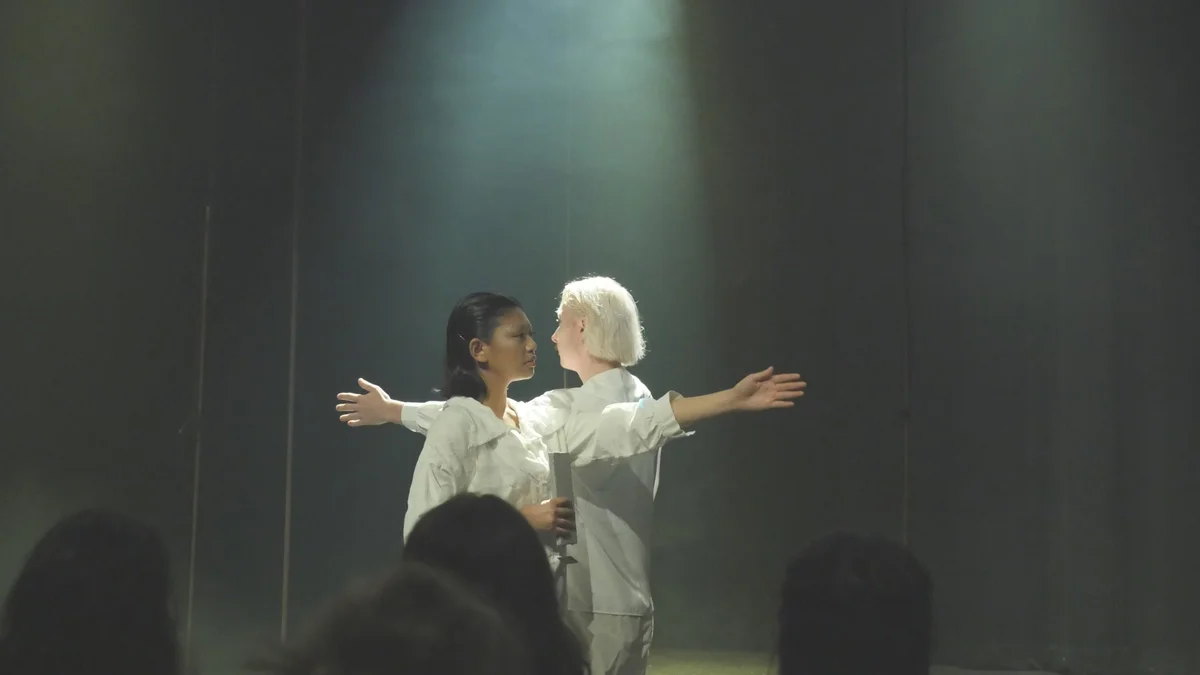 For a few summer nights, a group of undergraduate students invited audience members to step away into a dark, boundless corner of time-space and into the wanderings of their own minds.
Oranging, an experimental student-run theatre production, ran from July 6 to 9, with a closing performance on July 11.
The show was written and directed by Emilie Kneifel, a recent graduate of the interdisciplinary studies program, and Jack Mosher, a third-year scenic design student. From ideation to fruition, the project became a close, collaborative process between all of the involved students.
Its script is an adaptation of the play Event Factory by Renee Gladman, described by Kneifel as "a story about a linguist who goes to a place on the edge of dreaming and reality." Although the play's opaque experimental dialogue failed to explicitly establish this context at all, it investigated themes of interaction, isolation and the gap between emotion and expression.
As Kneifel put, "If someone isn't dealing with their own feelings, where does it manifest in their environment – does the tree scream instead?"
The sold-out show was performed in Dorothy Somerset studio at UBC, an intimate space made ever more entrancing through the dim lighting and smoke machines. Lighting, made all the more purposeful by its minimality, was a highlight of the show; the shadows of objects and people were no less than cast members themselves.
It's difficult to describe the plot, or direction, of the production. Oranging was void of meaning, in the most expressive manner. The lack of clear dialogue or straightforward plot made it impossible to objectively understand — rather, it was an experience of subjectivity and sensation.
"We're both very passionately against realist and boring theatre, and trying to see what we can do and push the bounds," said Mosher.
This show was reminiscent of walking through an abstract art gallery: an immersive experience, more open to perception and interpretation than what one would typically take from traditional theatre. You choose what catches your eye, and what you make of it.
However, our confusion similarly centred on how Oranging strayed from traditional theatre. Rather than the verbose dramatic performances of Shakespeare plays or even musicals, it was the lack of dialogue, of overacting and of noise that struck me.
It sent audience members into a trance watching this performance, as they invited us to join their world on stage and leave the dark theatre and cold chairs. Kneifel recalled their hopes that this show would "return us to simple human emotion." The actors' quiet demeanours and soft noises evoked a sense of childlike innocence.
The show left us with a feeling of contained restlessness. It was a story of emotional and linguistic isolation, for the protagonist and the audience members both, rooted in the tumultuous journey of the mind as we collectively tried to make it make sense.