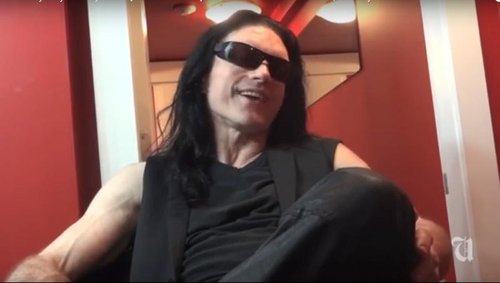 In 2003, a man created a movie so fascinatingly awful that his best friend and co-star, Greg Sestero, wrote a bestselling memoir about the making of it. It was called The Disaster Artist. Last year, James Franco released a movie based on that memoir, and earned himself a Golden Globe for best actor for his portrayal of the madman himself, Tommy Wiseau.
Now Greg Sestero has made a new film, which he wrote and starred in opposite Tommy again. It's called Best F(r)iends, and he introduced it to his devoted fans at the beginning of a double-bill extravaganza at the Rio Theatre on January 13.
"We wanted to make a movie with Tommy that was actually good," he said.
This is all part of the legacy of The Room, whose massive cult following has spread all over the world and prompted fans to show up at midnight screenings everywhere for the past 15 years. People come dressed up as their favourite characters, hurl spoons at the screen and yell responses to dialogue a la Rocky Horror. But audience participation is much more passionate and spontaneous, and there's no script — The Room is a kind of bad that continually inspires new feelings.
"People always underestimate how ridiculous it is," said UBC film professor Ernest Mathijs, who teaches an entire course on cult cinema. "It surprises every time, but that just makes you love it even more. And the fans are so loyal, like they are for all cult films — they keep coming back."
The Room is an independent film that was written, directed, produced, financed and promoted by Tommy Wiseau — a man with an accent of indeterminate origin, eccentric mannerisms more befitting of an alien who has studied human behaviour than a Hollywood mogul, and a determination fierce enough to make his impressive lack of talent irrelevant to his goals.
In the movie Wiseau plays Johnny, a successful banker engaged to Lisa, who decides she's bored and cheats on him with his best friend Mark (played by Sestero). Ostensibly intended to be a serious, character-based drama, the actual result is an hour and a half of insanity as characters and subplots are abandoned as quickly as they are introduced, scenes repeat themselves almost verbatim, and the acting and dialogue is so unnaturally awful that it becomes hilarious. ("I did not hit her, it's not true, it's bullshit, I did not hit her, I did nahhhhhhtt. Oh hi, Mark!")
"I knew what I was getting into," Sestero said. "I saw it for exactly what it was — a fascinating look into Tommy's mind. I didn't think people would pay money to see that."
Cue laughter from the sold-out theatre.
"I was clearly wrong."
Despite what The Room turned out to be, Sestero has stuck by Wiseau ever since. Best F(r)iends, which screened first at the event, is a strangely moving testament to their bond. It was clearly made by fans of The Room, for fans of The Room. And while technically still a work in progress, it's already tonally perfect — as bizarre and surreal as any film to bloom out of that friendship must be.
"I was high when I wrote it," Sestero jokingly admitted.
The screening was followed by a Q&A where fans could ask questions of Sestero, the film's director/producer Justin MacGregor, producer Kristopher MacGregor, and cinematographer Fahran Umedaly. The four of them were essentially the movie's entire crew and what they achieved works strangely well.
The movie centres on the relationship between a drifter (Sestero) and a mortician who takes him in (Wiseau) and mirrors the actors' real-life relationship — mismatched and weird, incomparable to pretty much anything.
There's something genuine and charming that shines through the film — just like in The Room.
Sestero himself is incredibly humble and personable. He cares deeply not only for Wiseau, but also for the fans who make what he does possible. When signing posters and copies of his book, he asks every fan's name so he can write it in along with his autograph. He's more than happy to shake hands and chat with people, to make time for every person individually even when there are hundreds to meet. It's a great experience and he's clearly an all-around nice guy.
After a break, the event moved on to a live script reading of Wiseau's first draft of The Room. Sestero does these readings at most fan events, with himself reading for Mark and audience members reading other parts. And yes, it's even more bizarre and awful that the final product. Even the people on stage (who are fans and have seen the movie multiple times) weren't prepared for it.
One memorable scene involves Mark and Peter the Psychologist – a character who, in the final film, shows up with no introduction halfway through, and then disappears just as suddenly before the last act. In it, the stage directions describe Mark knocking Peter unconscious, then finding a bucket of water on the ground and dumping it on his face to revive him. This is in a movie that was supposed to be the next Streetcar Named Desire.
The event closed out with a screening of The Room, and it was as glorious as always. Spoons flew, the audience booed the sex scenes, choruses of "Hi Denny!" and "Meanwhile, in San Francisco!" rose with every terrible transition. There's something magnificently earnest about the feelings the film inspires in people; there's simply no room for cynicism.
"There's something really admirable and amazing in that a movie this bad still shows 15 years later," as Sestero said. "There's gotta be a magic there."
And there is, because The Room is honest. At its heart, it's one man's passion project that failed so completely that it succeeded. It's clear what Wiseau wanted this movie to be, and it's just as clear that he put everything he had into making it.
"As a movie, it's very naïve," Professor Mathijs said. "It was meant to be a good movie. It's not self-aware, like Rocky Horror — he sincerely wanted to make a movie about love and friendship. And he believed in himself."
A lot of the magic comes from the Sestero's continued belief in Wiseau, too. Even if he never had any illusions about The Room, he always believed in Wiseau as a fascinating, indescribable person who could not and would not be contained.
"He really put his whole heart into The Room," Sestero said. "He really thought he was going to change the world and shock people with this film. And that's a lesson I definitely learned from him — if you're going to go out and do something, put your whole heart into it."
The Room may be a terrible movie, but it's terrible in all the right ways. It's passionate, heartfelt and showcases the power of dedication and friendship in a wholly unexpected fashion. It's said seven times in the movie that Johnny and Mark are best friends, but for Wiseau and Sestero, no one needs to prove that. It's as blatant as the title of their latest film.
"As bizarre as it is — and it makes no sense in any way — it's really become the epitome of friendship to me," Sestero said. "We both pushed each other to get out of our comfort zone and become what we wanted to become. I wouldn't be doing the things I'm doing now without him and vice versa. It's really taught me everything I know, and it's maddening and it's insane, and a lot of times I scratch my head wondering how it all ended up working, but it did end up working, and we're closer now than we've ever been."