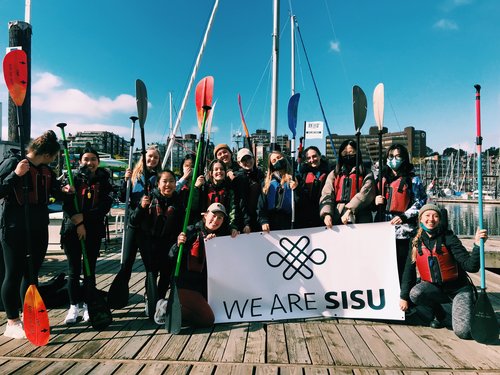 'Sisu': the Finnish concept of bravery, strength and resilience.
"[These] are the values that we try to encompass," said Masha Shcherbyna, fifth-year kinesiology student and president of UBC SISU.
UBC SISU is a club focused on the intersection between physical activity and women's empowerment. What started out as a fitness and outdoors club promoting health and outdoor sports among women has quickly expanded to include all genders in their events, while retaining the original focus on empowerment and inclusivity.
"We really like to … create a [safe] space for everyone to celebrate health and wellness in whatever shape or form it takes," Shcherbyna said.
What do I do as a member?
Members get discounted or free access to events, which happen at least twice a month, and are based on Instagram poll responses so that members have their voices heard. Members also are welcome to join the club Facebook group where they can connect with other members and find like-minded people to take part in outdoor activities with.
SISU's primary objective is getting members outdoors, with activities like hiking, beach yoga, kayaking and cycling the seawall, to name a few. In recent years, though, as a response to the unruly weather and the pandemic, SISU does a mix of outdoor, indoor and virtual fitness events, such as heel dancing at the Luminesque, climbing at the Aviary in the Nest, various yoga events and more.
Aside from getting people moving, SISU also places an emphasis on health education.
"As much as we are an outdoor girls club, we also really like to promote all forms of health and wellness [to everyone]," Shcherbyna explained. SISU has a monthly themed book club, with topics such as body image, self love and sexual health. They also have panel discussions centered around holistic wellness, where they invite speakers, usually local women that work in the health field, like coaches, nutritionists, physiotherapists and more.
One highlight
Shcherbyna said her favourite memory as part of UBC SISU was a yoga and boxing event that they held pre-pandemic. "It was really, really great to get a sweat in, do some meditation and then just share wisdom and insights with mentor-like women, and just see what's possible and get so inspired through that."
Their discussion panels are similarly inspirational, said Shcherbyna said, but she hopes to do more in-person events of this kind in the future as restrictions ease.
How do I get in touch?
More information can be found through their Instagram page or Facebook.