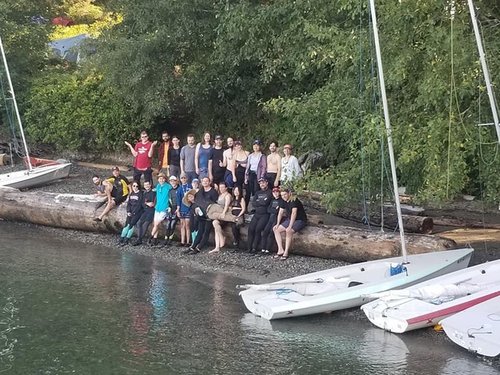 "Sailing is just wonderful. It's very magical to go out on the water …you have the mountains, you have the city. It's just a cool experience," said Emilie Desrochers, current bachelor of education candidate at UBC and president of the UBC Sailing club.
Established back in 1951, UBC Sailing has been offering members affordable access to sailboats and sailing lessons for over 60 years. Even if you think sailing isn't for you, you can choose from many other options including kayaking, windsurfing or stand-up paddleboarding, with instruction available for all these activities.
Having been around for so many decades, the club has gone through changes over the years. "When it first started, it was mainly for people competing in sailing … now it's more like people come, they learn how to sail or windsurf … and it's more of just like a community, like a co-op of people using our equipment," Desrochers explained.
The club welcomes people with all levels of experience to become members.
What do I do as a member?
Sailing season begins in April and ends around September, so the club is most active over the summer. However, UBC Sailing holds smaller social events over the term and you can sail during the term if you have the skills.
The student membership costs $130, and another $104 is required for a Jericho Sailing Centre Association membership. Members also pay a refundable $150 deposit that is returned after they perform at least eight hours of volunteer work at the club.
While this can seem pricey compared to other clubs on campus, UBC Sailing provides relatively affordable access to equipment and lessons that are usually much more expensive. Once members pass a certain level, they can get access to the sailboats and paddleboards and bring friends to ride on them as well. "We have beginner boats and high level boats as well … for performance," Desrochers said.
The best time to purchase a membership is in September, she said, because this is valid over the entire sailing season, until the next sailing season begins. That is, a membership purchased in September 2021 would be valid until March 2023.
One highlight
The Keats Island trip is a major highlight, according to Desrochers
UBC Sailing holds a trip every summer where members sail out to Keats Island and camp there overnight. If you can't sail yet, don't worry — people get motored over too. Other items are transported to the campsite by water taxi.
"We sail out there, we bring a bunch of different boats … We also have a floaty [party island]," Desrochers said.
"It's just like a little party and camping … and a lot of fun!"
How do I get involved?
Most activities at UBC Sailing require you to buy a membership, which is available on its website. Further information can be found on its website as well.
Lessons for the upcoming sailing season will open in March or April. Registration fills up quickly due to limited spots, so be sure to sign up if this sounds like something you want to do over the summer!