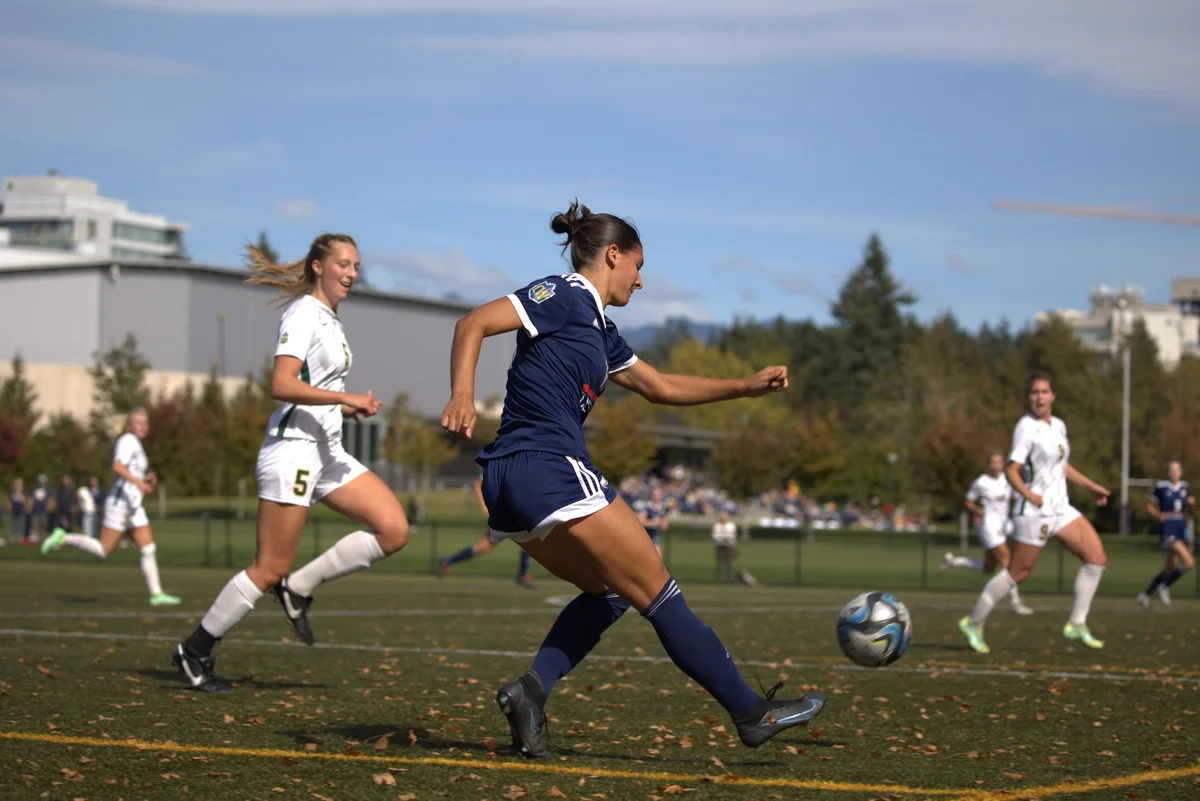 On Sunday, the T-Bird's women's soccer team handily racked up five goals against the University of Alberta Pandas at Ken Woods Field under crisp September sunlight. They revealed a deep and adaptable roster, as rookies and veteran players alike dominated possession for the majority of the game.
The 'Birds started off with a promising series of attacks down the right flank with a shot in the first minute by forward Vanessa Tome setting the tone.
While the Pandas slotted a couple dangerous long balls to their forward line, UBC responded with strong coverage by first-year starting center back Sarah Rollins, who commanded the defensive line with a reliability that belied her rookie status.
The 'Birds pressed forward with a long ball from Jacqueline Tyrer to forward winger Nisa Reehal, who sped past the Alberta defensive line and found the bottom left corner in a clinical shot to open the scoring.
UBC continued to pursue their lead with composed combinations from the back to defensive midfielder Taiya Dennehy. 10 minutes later, the 'Birds scored again off a well-placed cross by Dennehy to forward Bailey Doerksen.
"We tried to attack them centrally and still have width out wide, and I felt Nisa did a really good job of that – she's pretty quick on that wing," said head coach Jesse Symons. "Then we were able to playmake through the central space, where we found our second goal."
Entering the second half 2–0, UBC continued to dominate the offensive with technical moves in the box by fifth-year midfielder Sophie Damian.
After 20 minutes of back-and-forth, including long balls by Alberta that tested UBC's second-half keeper Lita Billman, UBC's calm tenacity on the offense paid off.
In an echo of her first half goal, Reehal received a long ball from rookie Holly Whelan and flew by the Panda's defensive line for a successful close-range shot. The team rallied and followed up with two more goals in rapid succession by forward Jade Taylor-Ryan.
"We missed a few chances early on, but as the game wore on, spaces opened up a bit, and I felt Jade was quite impressive to finish the chances she got," said Symons.
Symons emphasized the depth of the 'Birds roster. Rookies, like Whelan and defender Ava Ferreira, seamlessly integrated into the strategy and energy of their more experienced teammates to deliver another win — bumping UBC's streak up to 8–0.
The Thunderbirds hope to continue their clean record when they travel to play the Mount Royal Cougars in Calgary on Friday at 5 p.m.