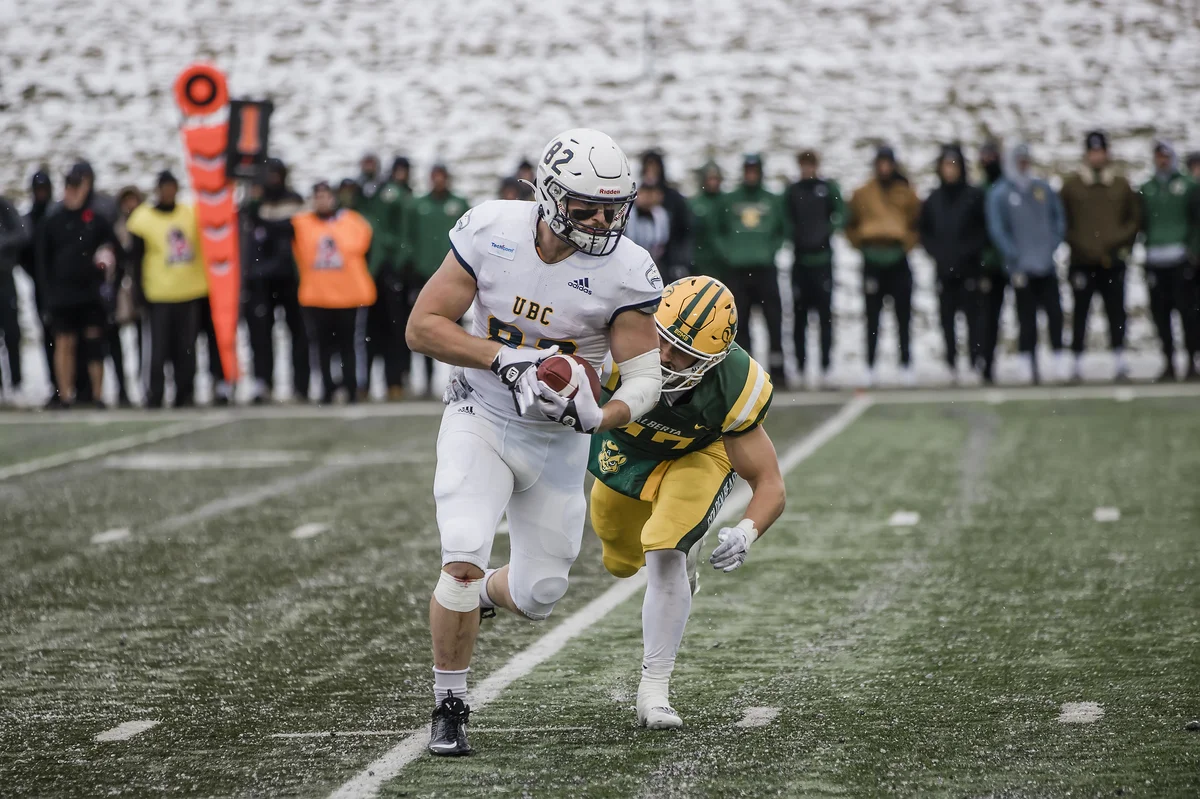 Battling the frigid weather in Edmonton, the UBC football team beat the University of Alberta Golden Bears on Saturday with a 23–10 win in their final game of the regular season.
This weekend's win for UBC earned them first place in the Canada West standings, giving them a home-field advantage for playoffs. The Golden Bears will continue to be a top competitor for the 'Birds, as both teams ended the regular season with a 6–2 record. The Golden Bears were previously undefeated on their home turf this season, and had only lost one game — to the T-Birds at Homecoming.
The Thunderbirds played a very defensive game, not allowing a single touchdown for the Golden Bears, whose only points came from kicker Jonathan Giustini. The Bears started the first quarter with a kickoff point, but the 'Birds quickly took the lead when defensive back Cesare Rednour-Bruckman scored a touchdown off an 11 yard pass from quarterback Garrett Rooker. Kieran Flannery-Fleck scored the conversion kick and a field goal in the last seconds of the quarter, to give the 'Birds a 10–1 lead.
The second quarter was one full of field goals — the first one made by Giustini to get the Bears back in the game. Flannery-Fleck scored the next two within the last three minutes of play. Following a 29 yard run by Rooker, the UBC offensive push was stalled, forcing a field goal from 34 yards out. The second field goal was kicked only 15 yards from the endzone, bringing the score up to 16–4 for the 'Birds at half.
Another field goal from Giustini started the third quarter, but it didn't phase the Thunderbirds. The T-Birds kicked into offensive drive and Rednour-Bruckman ran an incredible 54-yard return into Golden Bears territory. Playing off that gained distance, Isaiah Knight made a six-yard dash into the endzone on the first down, scoring another touchdown for UBC. Another successful kick from Flannery-Fleck gave the Thunderbirds their biggest lead of the game at 23–7.
Having already solidified their lead, the 'Birds played a great defensive game in the final quarter, and the Golden Bears were only able to score one field goal, resulting in a dominant final score of 23–10.
The T-Birds' postseason will start on Saturday, November 4 when they host the Manitoba Bisons for the Hardy Cup semi-finals game. Kickoff is at 1 p.m. at Thunderbird Stadium.