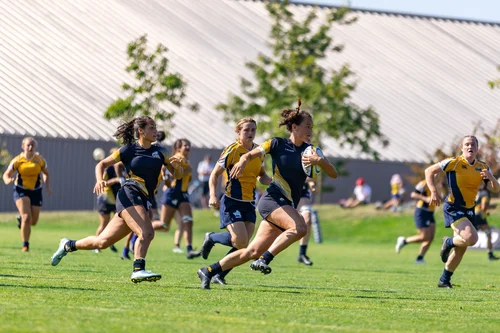 Coming into a new season, UBC's rugby teams are looking to repeat, and improve on, last year's success.
Hot off of last season's national win, the men's rugby team is fired up for the upcoming season. With rookies fresh from the Canadian U18 team and Didier Banse newly named interim head coach, the team is carrying a new energy into the fall.
With all the new talent, the team is lucky to have some key players returning this season. Izzak Kelly and Jacob Bossi are dynamic forwards to watch while brothers Takoda and Talon McMullin are strong back players.
Last spring UBC won the BC Premier League, making them the team to beat. They currently have a 1–1 record. The T-Birds will soon travel to Bordeaux, France for the World University Rugby Invitational Tournament to compete against the best university rugby teams in the world. This experience should help the team continue building their chemistry.
The team's next chance to prove themselves is September 16 versus the Pacific Pride at the Gerald McGavin UBC Rugby Centre.
For the women's team, head coach Dean Murten is optimistic about this season. Last year, UBC had a successful season with a 8–1–1 record. After winning their third consecutive Canada West championship, the team moved on to U Sports women's rugby nationals where they finished fifth overall for the second year in a row.
Going into the season, the team is ranked first in the Canada West division and third in U Sports, behind Queen's and Laval. Laval will be stiff competition this year, with nationals being held at their campus in Quebec City.
The roster is mostly returning athletes but with the addition of strong rookies like Canadian Olympic bronze medalist Sara Kaljuvee and two-time provincial champion Lana Dueck.
"We have to be a little bit more patient, we have to be a little bit more adaptable, we have to be a little bit more physical. We have the personnel to do it, we just need to come together collectively," said Murten.
The Thunderbirds started their season strong by beating their rivals, the University of Victoria Vikes, on the road 29–12. The team's home opener is Thursday, September 14 against the University of Alberta Pandas.
All things considered, the season is emanating a fresh energy – on the coaches' side for the men and the players' side for the women.