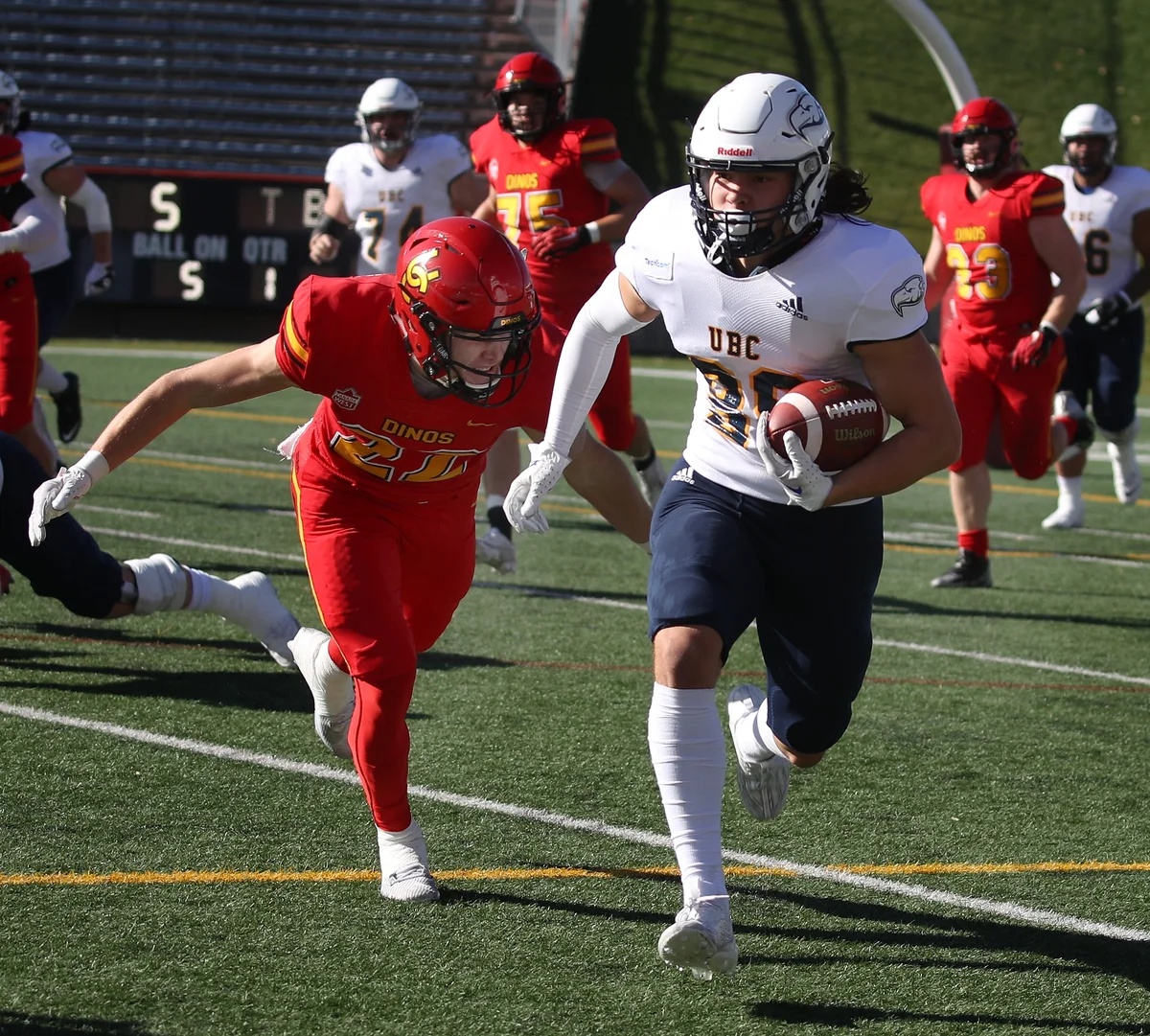 While the skies were bright and sunny in Calgary on Saturday afternoon, for the Thunderbirds, everything seemed rather bleak. The 'Birds stalled on offence all game, handing the University of Calgary Dinos their first win of the season, losing 20–6 in a shocking upset.
Even before the game kicked off, the T-Birds were at a disadvantage. Isaiah Knight and Sam Davenport, the Thunderbirds' leading rusher and receiver respectively, were both out, creating a hole in the offense and putting the onus on the T-Birds' other key players to step up and make a difference.
The dysfunction in the team was evident from the very first drive. A normally stout T-Birds defence folded against the Dinos' offense, with Calgary quarterback Dom Britton dicing up the 'Birds' secondary. With the Dinos scoring a touchdown on their initial drive and a field goal on their next, UBC dug themselves a 10–0 hole less than 10 minutes into the game.
The offence didn't perform any better. Neither rushing nor passing seemed to be working for the T-Birds. Excluding two automatic starts at the 35-yard line due to Dinos' field goals, UBC started every single drive of the first half inside their own 20-yard line. The terrible field position meant that the 'Birds would have to go on long drives to score any points — something the offence was in no shape to do. With only 80 total offensive yards the entire half, the T-Birds went into the locker room down 13–0.
Attempting to jumpstart his team, head coach Blake Nill subbed out star quarterback Garrett Rooker for backup Derek Engel for the third quarter. That strategy, as bold as it was, produced nothing, as Engel only mustered 15 passing yards before he was pulled for Rooker at the start of the fourth.
By this point in the game, the result was essentially determined. While the defence kept the 'Birds within two scores for most of the game, a third quarter touchdown by the Dinos killed any hope for a T-Birds comeback. The 'Birds added a touchdown with nine seconds left in the game to prevent the shutout, but it was a mere moral victory in an otherwise substandard performance.
Locked in a tight battle at the top of the conference, the T-Birds can not afford any more performances like this if they want to clinch a playoff berth. They will have another chance to secure their spot when they return home to face the Regina Rams on Saturday at 1 p.m. at Thunderbird Stadium.