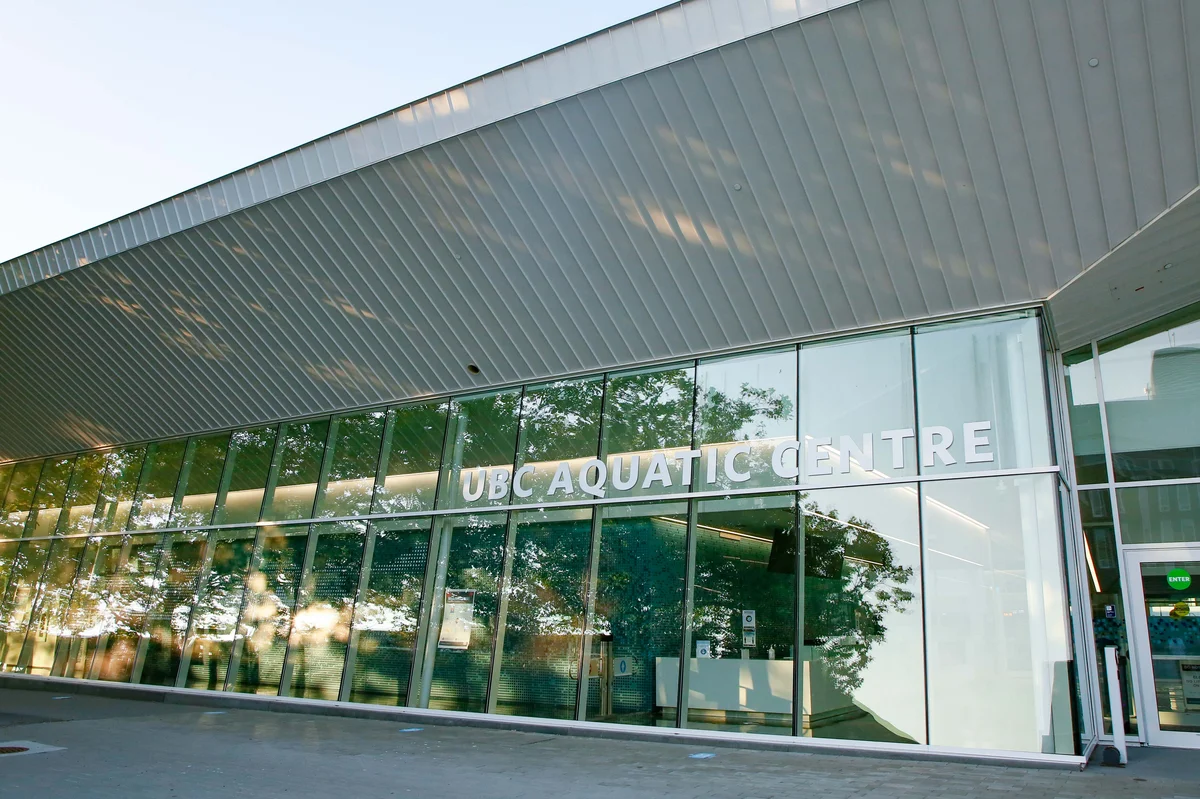 The Aquatic Centre introduced a new swim session that is specifically for Two Spirit, Trans and Non-Binary people (2STNB) at the end of September, and the response so far has been positive.
During 2STNB swim sessions, the UBC Aquatic Centre is open exclusively for individuals who identify as Two Spirit, Trans and Non-Binary, regardless of age or swimming ability. During this time, the Aquatic Centre's blinds are lowered to provide privacy for swimmers. The leisure and recreation pools are open for open swim and length swim, and the diving boards are available for use.
The 2STNB Swim was added "to expand the available activities and due to interest from the UBC student community" according to a statement sent to The Ubyssey by Christine Saunders, operations manager for the UBC Aquatic Centre.
According to Saunders, the UBC Pride Collective hosted two Trans Welcome swims last year that had great attendance and provided a model to deliver this type of program in a welcoming and safe environment.
Zeke McLin, an attendee of the swim session, mentioned that he found out about these hours from the UBC Pride Collective Instagram. McLin was happy to see programs like this were being implemented and felt comfortable throughout his experience at the swim.
Over the first two weeks of the program, attendance has increased.
"People could come as they are," he said.
"For many people, the 2STNB Swim was the first experience and interaction they have had with recreation at UBC, which is an encouraging sign that we are providing a needed service," wrote Saunders.
Currently, UBC Recreation also offers one session of specialized fitness hour for 2STNB people, where the ARC Lower Level Studio is made private and and supervised by 2STNB staff. However, McLin would like to see these recreation programs expand even further.
The 2STNB swim time will continue for the fall term on Friday evenings from 8–9:30 p.m. It is not confirmed past that point, as programming is reviewed on a term-by-term basis.
But based on the initial response to these sessions, Saunders expects that this program will continue to be offered in Term 2.
For those who may find the aquatic environment too stimulating, sensory sensitive swim sessions have also been introduced this fall as an attempt to better serve different communities on campus, noted Saunders. These sessions are offered on Wednesday mornings and include lowered blinds, fewer people, no loud noises such as announcements, whistles or hand dryers and dimmed lighting.
"To see many community members interacting with a UBC Recreation program for the first time is exciting and why we continue to build spaces where all can thrive and feel connected," Saunders wrote.
All 2STNB programs can be found here.