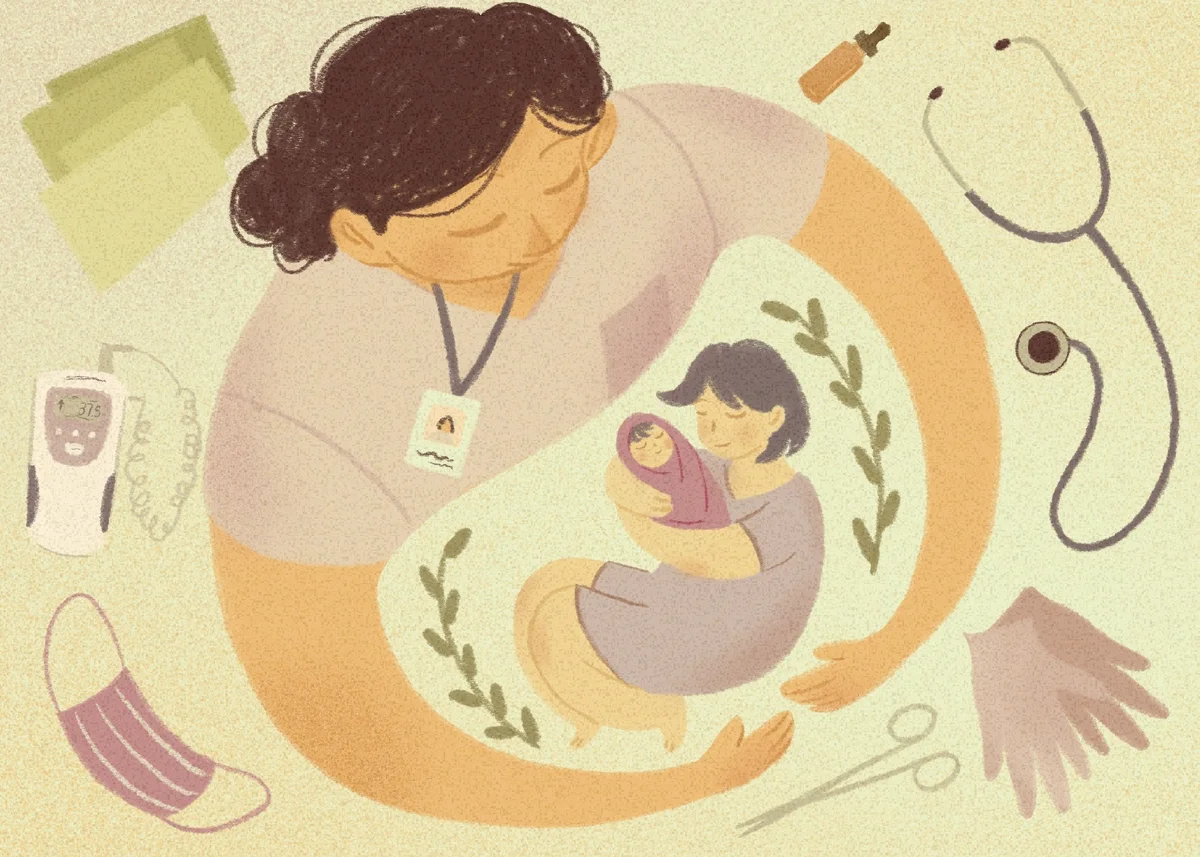 To make pregnancy and childbirth safer, hospitals provide ultrasound screening, physical exams, vaccines and more. These modes of care are meant to support health in the weeks before and after birth — called the perinatal period.
Despite these medical advances, Indigenous people experience more clinical complications during pregnancy, and women of colour experience a higher rate of mistreatment while giving birth in hospitals.
Dr. Saraswathi Vedam, a professor of midwifery and one of the lead investigators at the UBC BirthPlace Lab, is launching a new study to investigate how marginalized patients experience the care they receive, and how that impacts their health. Medical systems that appear to be high-quality on paper might not feel safe or supportive to patients where it matters.
"You can't have quality care without quality experiences of care," said Vedam.
According to Vedam, perinatal researchers don't usually ask pregnant people — especially racialized and marginalized ones — themselves about their experiences and needs. This is a dangerous gap that her new project aims to fill.
Her new study 'Justice and Equity in Perinatal Services' is one of the ten Pan-Canadian Women's Health Coalition hubs funded by the Canadian Institute of Health Research and Women and Gender Equality Canada.
As a practicing midwife for 38 years, Vedam has always approached maternal healthcare as a dialogue. Midwives focus on asking patients what they want for out of their birthing experience and tailoring care to their preferences and needs.
"It's inherent in the way we practice," said Vedam. "There's always co-creation of the birth plan and care plan."
Now, she approaches research in the same way — asking marginalized people what they experience from their health care, and what they need for it to improve.
"There's been this disconnect between the health knowledge that we hold in our own bodies and minds, and how the system or healthcare providers help," said Vedam.
Black, Indigenous and Trans people have often been excluded from perinatal research, leaving their priorities and specific needs unheard when it comes time for delivery.
Vedam's research had shown that they're more likely to be scolded, threatened or mistreated. This has led to distrust between the healthcare providers and patient.
Quality care "is about feeling like whatever your identity, your background, your circumstances, when you interact with health services ... you are the ultimate decision maker." This also includes pathways to holding health care systems accountable for when that trust is broken.
To assess health care, she developed three new quality measures — Mothers's Autonomy in Decision Making (MADM) scale, the Mothers on Respect (MOR) index and the Pregnant Persons' Experience of Mistreatment by Providers (PPEMP) index. The data helped her develop an online course to help providers integrate person-centred decision making in their practice.
Her new project also aims to develop tools for perinatal care providers to enhance patient autonomy, and an online system evaluating hospitals on their readiness to change their ways of delivering care.
Supportive and accessible care also goes beyond the hospital room. It includes helping patients access it through increasing access to transportation, paid maternity leave and culturally-competent providers.
"Sometimes service users are blamed for not coming to the clinic, when in fact, they're in a minimum wage job that doesn't allow them time off to go to clinic during clinic hours, or they don't have transportation."
Accessibility can only be achieved through systematic changes, planned and executed based on what people say that they need.
"They know that's their lived experience. They need the system to move forward with implementation of strategies that improve accountability," said Vedam