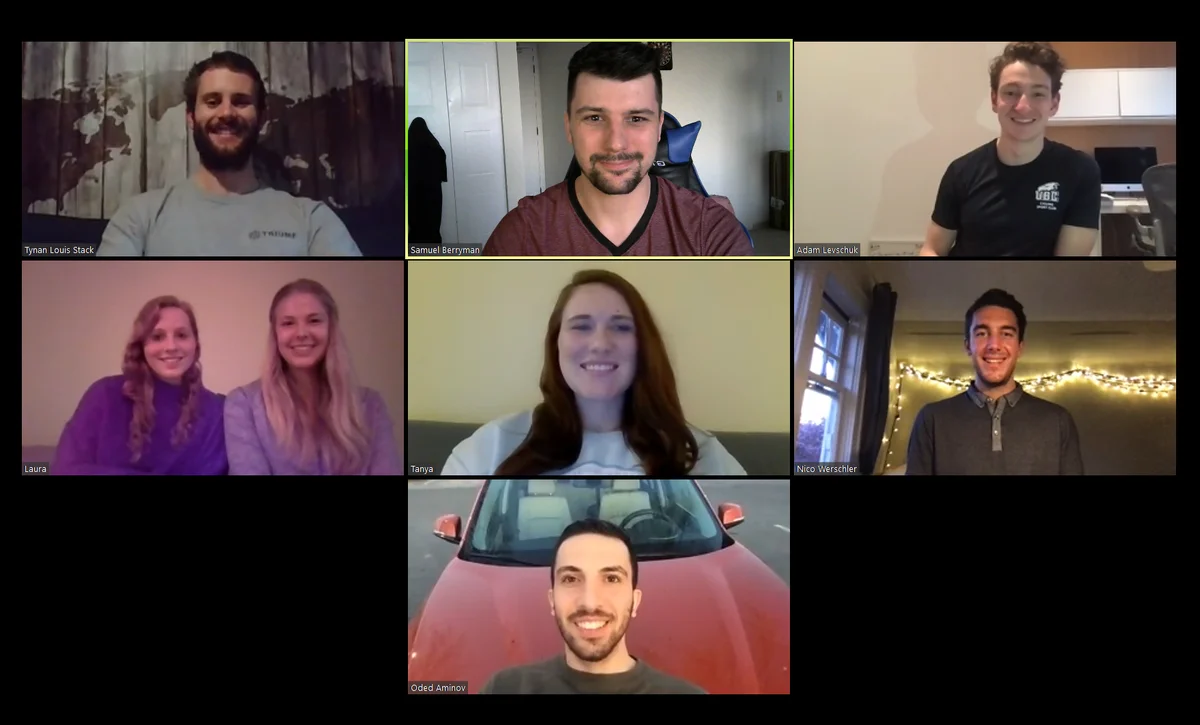 A team of UBC students is developing and testing a low-cost ventilator that they hope will ultimately be approved for use in treating COVID-19 patients.
Their first prototype landed them in the semi-finals of the Code Life Ventilator Challenge, a ventilator design competition led by the Montréal General Hospital Foundation and the Research Institute of the McGill University Health Centre. The team, named FlowO2, is currently putting together and testing their second prototype, which they hope to soon send to Montreal for further testing.
The top three placing designs will be made available for download for free so that manufacturers can start producing them upon completion of the competition. FlowO2 is currently in the top ten of the competition, and competing for a spot in the top three. Over 1,000 teams submitted designs to the first round of the challenge.
The team's design uses hardware store supplies like plastic tubing and valves to adapt a pre-existing medical device in an innovative way.
"Our approach [was] to take a BiPAP, which is already a medically approved system, and to augment it,"said Samuel Berryman, FlowO2 team member and a PhD student in mechanical engineering. "So it does the majority of the air flow control, which makes it much easier to get regulatory approval for. And obviously it's a lot safer."
BiPAPs are non-invasive ventilation devices widely used to treat sleep apnea and other conditions. This means that medical professionals are already trained to operate them. It also means that the components of the prototype are already being manufactured.
Berryman sees their use of pre-existing technologies as one of the strengths of their design.
"We think that our design is one of the better ones because we're not starting from the ground up, we're starting from an existing system and adding onto it," he said.
The FlowO2 team consists of UBC graduate students and one alumnus— Samuel Berryman; Tanya Bennett, a PhD student in biomedical engineering; Oded Aminov, a masters student in biomedical engineering; Georgia Grzybowski, a masters student in biomedical engineering; Adam Levschuk, a masters student in biomedical engineering; Tynan Stack, a mechanical engineering alumnus; Laura Stankiewicz, a PhD student in biomedical engineering and Nico Werschler, a PhD student in biomedical engineering.
Beyond the team, the project has been collaborative in nature. At UBC they've received funding from Engineers in Scrubs, Dr. Roger Tam, an associate professor of radiology in the Faculty of Medicine at UBC, and the departments of biomedical engineering, mechanical engineering and the Faculty of Applied Science. They are also getting mentoring and input on the design from respiratory therapist Paula Mawryczew and Vancouver-based engineers Paul Geyer and Judy Findlay.
For the FlowO2 team members, this is an exciting opportunity to direct their skills toward something useful at a time when their other work may be restricted. Berryman described the specific challenge of finding himself with little to do when his PhD research was put on hold following UBC's research curtailment.
"That restless feeling doesn't go away," he said. "So really, being able to overcome that and being able to contribute in some way has been pretty great."