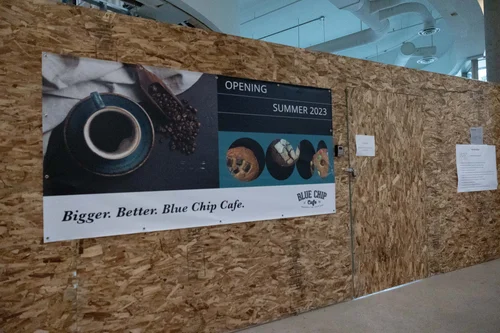 The opening of Blue Chip's new location in the Nest has been delayed, originally intended for the start of this academic year.
In a written statement to The Ubyssey, AMS VP Administration Ian Caguiat wrote that the prolonged renovation is due to "supply chain delays for certain materials, labor shortages [and] a minor construction mishap that caused some additional repairs."
Initially, the AMS intended to shut down Blue Chip during the relocation process, but instead it has continued operating Blue Chip in its existing space until the old Pie R Squared location has undergone all the needed renovations. The AMS has also increased their focus on the Blue Chip Express "to provide quicker service for our patrons," wrote Caguiat.
Caguiat added that the new expected opening date is mid to late October, "if there are no more unforeseen circumstances."
The delay in Blue Chip's opening also sets back the launch of the new Mediterranean restaurant that will replace the old Blue Chip location.
"The earliest [opening for the Mediterranean restaurant] will be sometime in the new year," Caguiat commented, "we are targeting [for] sometime in the early part of Term 2."
The AMS expects to run a $738 thousand deficit this year, and Blue Chip is one of their largest revenue sources. The new Blue Chip location and Mediterranean restaurant "would ideally mean increased revenue" to reduce this deficit, Caguiat wrote.
However, Caguiat wrote that the AMS accounted for delays in the budget and "took a conservative approach and did not include the expanded Blue Chip or Mediterranean restaurant in our current estimations."
Caguiat noted that some features the UBC community can anticipate at the new location are changes to seating arrangements, including "different types [of seats] at counters, tables and soft seating so it will have a café feel to invite [customers] to sit and linger." He also added changes will be made to the service lineup "which will help improve turnaround time for between class rushes."
Although the UBC community must wait a bit longer for the opening of the larger Blue Chip, Caguiat insists "it will be worth the wait!"