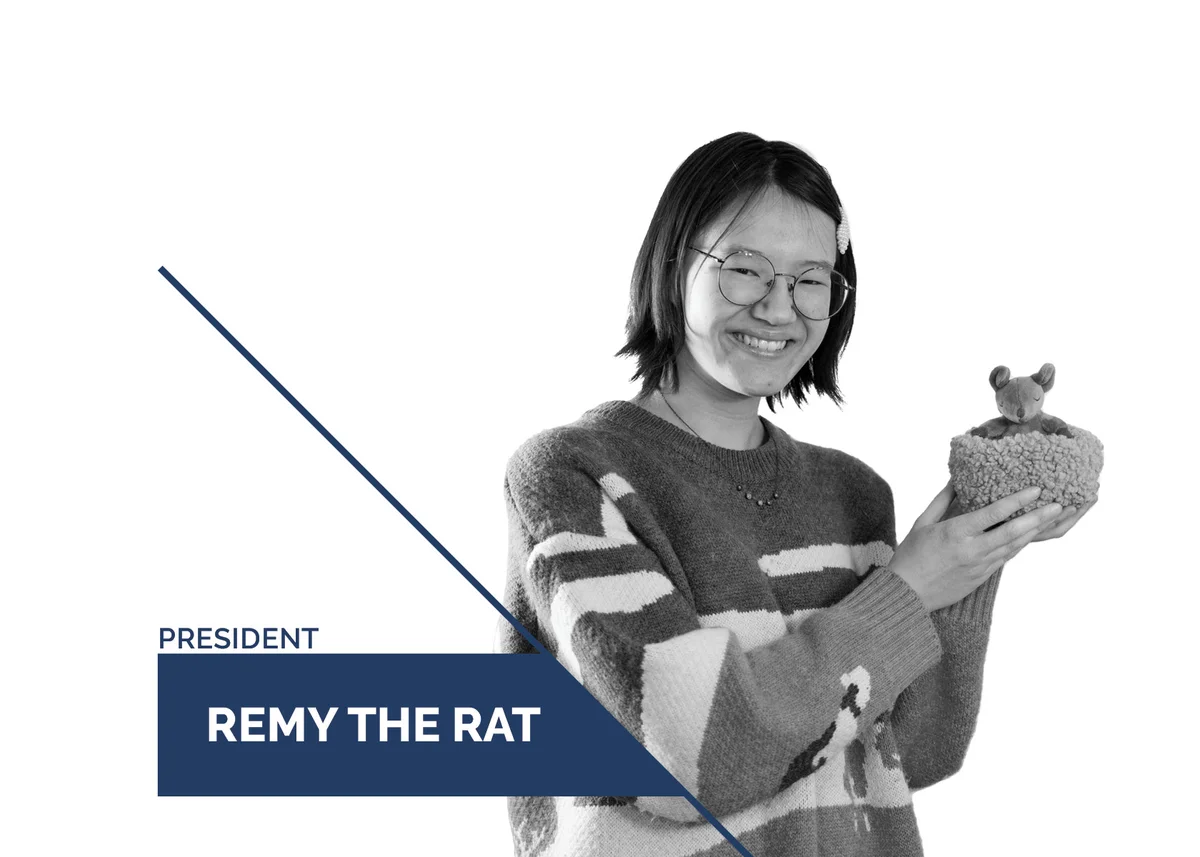 "Remy is in it to win it," said Esmé Decker, presidential candidate Remy the Rat's third-year English honours human representative.
"I think that it's important for people to know that I'm running seriously this year."
Remy/Decker, inspired by the Open Kitchen rat infamously spotted in January 2022, is running on a platform centred on climate justice, food security and making the AMS "a student union again," which Remy/Decker described as "collectively bargaining for students' interests and rights."
Remy/Decker said their work with UBC Climate Hub, Sprouts and Youth Climate Ambassadors has prepared them to effectively rally students and advocate for them.
"I think that if I got voted in next year, it would be important to bring my background of organizing here in Vancouver and in the UBC space," they said.
Following this year's opposition to tuition increases Remy/Decker discussed "targeting the image of UBC in order to advocate for a tuition freeze and to really have students' voices listened to" in future campaigns.
On food security, Remy/Decker said, "Remy would love to expand on or work with the AMS Food Bank, Sprouts and AMS food outlets to continue providing affordable food options … and as much food security as we can in this overall quite difficult period of inflation."
Remy/Decker said they were happy to see institutional support for one-time funding increases for food security initiatives, and is "looking forward to hopefully continuing the advocacy that has been built up this year."
Implementing the AMS's Sustainable Action Plan (ASAP) is also one of Remy's priorities, Remy/Decker said.
For Remy/Decker, part of the AMS's role in climate justice needs to include "fostering space and capacity for advocacy around climate action and climate justice and demonstrating institutional leadership."  
ASAP is the student society's "comprehensive outline that acts as a vision for the Society to be a leader in sustainability." It is based on the UN Sustainable Development Goals and was first passed in 2020 and is supposed to be reviewed this year.
Remy/Decker said Remy intends to keep in contact with students by holding town halls, reaching out to clubs and using social media similar to current practices.
After seeing how students' responded to last year's campaign, using the name Remy to represent student bases, the joke candidate is back as a serious contender, Decker said.
"I'm here because students asked me to be here."
Remy/Decker emphasized this transition from joke to serious candidate during debates, where they also talked about how they would use their experience with other student clubs and organizations as president.
Remy/Decker is running against VP admin Ben Du and joke candidate ChatGPT.
Follow us at @UbysseyNews on Twitter and follow our election coverage starting February 27. This article is part of our 2023 AMS Elections coverage.