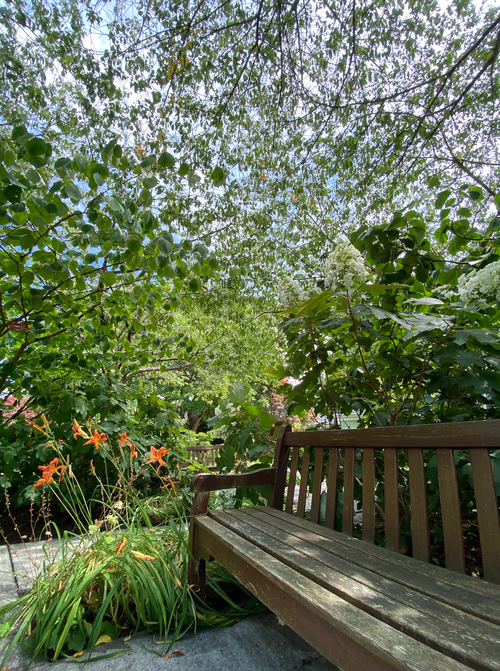 Of all the different varieties of furniture humans have placed in outdoor spaces, none match the mighty yet humble bench. UBC certainly has no dearth of benches. Something's gotta support my exhausted thunder thighs as I complete pilgrimages from Forestry to Allard. A good bench can provide a quick main character moment — much-needed at UBC, a hotspot of imposter syndrome that can make you feel like an NPC in your own story.
A good bench has two things:
A beautiful location — ideally one that allows you to fall in love, cry or dissociate without anyone around to see. What would a bench be without its surroundings?
Back support.
Let's get to it.
Right Angle
Located next to the Cecil Green House on the north end of campus, this pair of benches starts our list off strong. The two of them can host everything from a herd of first-years to a socially and emotionally distanced couple. With some distance from NW Marine Drive, traffic noise is minimal, making it the perfect reading space. Minus points if you're reading a book that had its adaptation filmed there, because that book is Fifty Shades Freed.
Stonehenge
A 30-second walk from "The Right Angle" and you'll find this cute arrangement of conveniently flat-topped stones. Where there's a will, there's a bench, and "Stonehenge" has six. With a towering tree to one side, and a great sunset to the other, it's the perfect place for a contemplative sunset with your crew (or a place to discuss the dissolution of your friend group, helped in part by the socially distanced seating).
This short king of a writer also benefited from the boost to one's height that can be achieved by standing on the stones. You could also totally get your tall friend (we all have one) to cosplay as a sundial.
Lonesome Queen
Climb up the hill behind the Museum of Anthropology (near Stonehenge) and you'll see this beauty tucked in the grass. With a gorgeous view of the water and perpetually #sunkissed, this bench really puts in the work. It's also the perfect bench to have a long lost marriage-averse fling look you in the eye and tell you that they were able to commit to someone else because they felt with them what they were never sure of with you (too many 500 Days of Summer references? Please don't axe this one Ubyssey editor).
[REDACTED]
This gem can be found right outside the Asian Library's main entrance. Nestled between the big cedars, this bench is truly in a class of its own, and is very cottage-core-friendly if that's your vibe. With a view of the Asian Library and its water feature and good distance between it and any major roads, this bench is best enjoyed alone (or at least that's what I keep telling myself). Trust me reader, you're gonna wanna check this bench out (once I'm ready to stop gatekeeping it for the rest of the summer).
The Memorial Road Lineup
Located on Memorial Road in front of the Frederic Lasserre Building is a convenient row of six benches, all of which are under the cherry trees and lined up with two rows of three. The proximity to other bench enthusiasts gives this spot good eavesdropping potential, so sit your ass down and listen. It is sure to be a spring-time favourite when a sakura-core filter descends upon these wooden gems.
Red (Bacon's Version)
It feels criminal to stack in this list of cool indie benches a sellout mainstream bench. Expect no solitude here, but don't let the crowd detract you from the "I will never again be in my 20s bathed in sunlight watching the sunset over a garden of flowers" feeling these benches provide. Like its namesake album, it may feel blasé, but these benches really are some of the Greatest Benches Of All Time (GBOAT?).
Eden
As a resident of Arbutus House, I have always seen and admired these benches in the middle of the St. John's College field. Having now enjoyed them in person, I can confidently recommend these to everyone. They're just sorta perfect in all the right ways. Plenty of sunlight filtered through leaves, warm breeze and a feeling of main character seclusion. It has a bit of an old-school charm with the all-wooden frame, and gets bonus points for an easy-to-access central location.
Honourable Bentions
With that, I'm happy to say that my daily task of wasting time ranking obscure UBC artefacts is done. Which one will you sleep on when Student Housing and Hospitality Services increases rent "after consultation with students?"