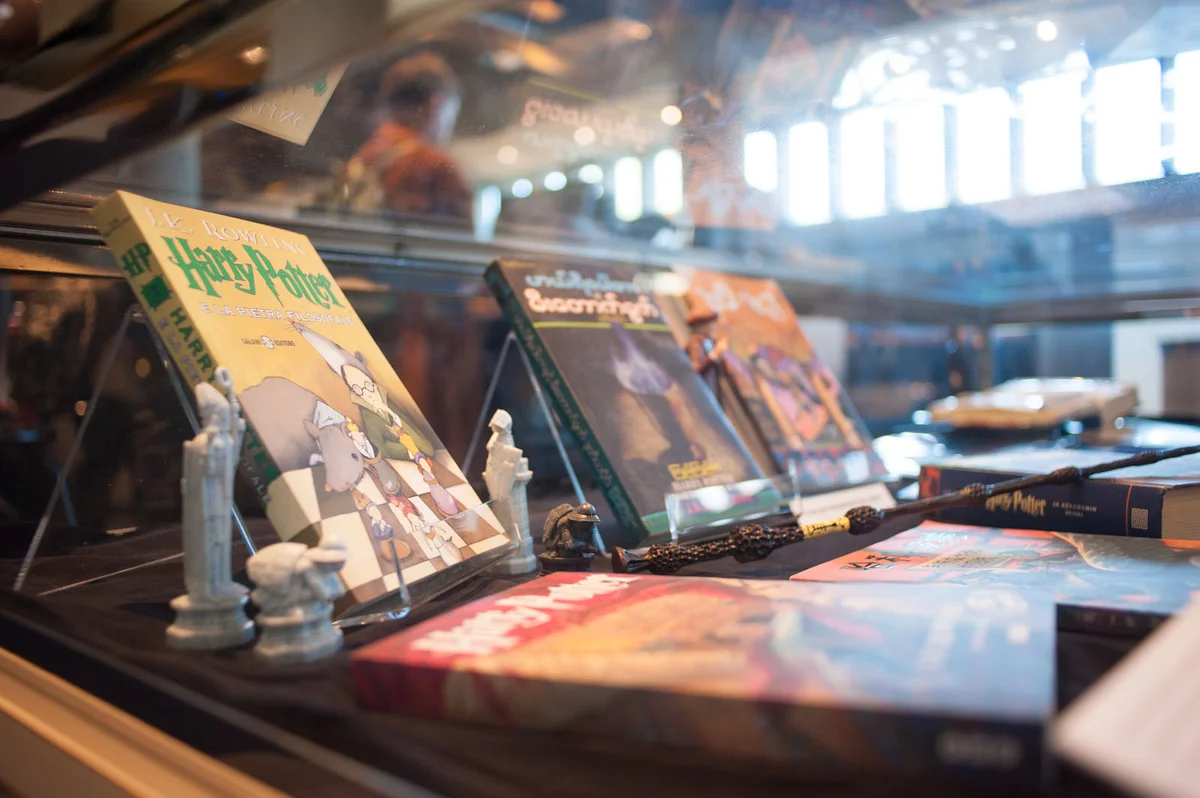 Nobody can argue against the fact that Harry Potter is a cultural phenomenon. Children read the books and watch the films, there are websites dedicated to fanfiction, artists create murals and paintings of the characters and we study the books in literature classes.
The UBC Rare Books and Special Collections library has an extensive collection of children's literature collected from around the world and, until December 11, they are exhibiting their Harry Potter collection at three locations connected through a magical map around campus.
The collection began at a New York City book fair. Rare Books library head Katherine Kalsbeek found a full set of signed editions of the first American run of Harry Potter and began the collection from there.
"They're relatively new books," said Chelsea Shriver, librarian at Rare Books. "But they've already had such a significant impact and they will have, if they haven't already, the impact that Alice has has. We had to start collecting Harry Potter to make sure we didn't lose ground with the significance of our collection."
Many students coming into UBC this year were born in 1997 – the year that Philosopher's Stone was first published. Head of the David Lam Management Research Library Christina Sylka was the first to suggest a special exhibition as a collaboration between different libraries on campus.
"Harry Potter is this global phenomenon," said Shriver. "I started to realize that there are a lot of connections that Vancouver specifically has with this phenomenon."
Kidsbooks, the largest children's bookstore in North America, was the first store to stock Harry Potter and the Philosopher's Stone in Canada. The Canadian publisher Raincoast Books is based in Vancouver. Known for their "legendary" launch parties for book releases, Kidsbooks were keen to be involved with the exhibition, putting the library in touch with Potter-significant Vancouverites.
The exhibition has three locations around campus that are connected by a Marauder's Map developed by the library staff. Cases can be found in the David Lam Library, Koerner and in the Ridington Room at IKB. The nine cases explore all aspects of the phenomenon, from business and education to pop culture and personal connections.
Elements of the collection include a to-scale Lego Quidditch pitch, annotated copies of the books and photos from midnight book releases.
"We're still actively pursuing first editions of all languages," said Shriver. "We're always on the lookout for special editions, one's that are signed, ones that maybe were given as gifts [and] ones that have some other particular association like advanced copies."
Not just satisfied with English language texts, the library is collecting editions in Spanish, Mandarin and Latin — to name just a few. 
"Ideally, we would like to be as complete as possible," said Shriver.
On October 29, Rare Books will be presenting a colloquium, "Brands of Magic," with five panellists to discuss all areas of the phenomenon. Moderated by Sauder's Darren Dahl, Gisele Baxter will be speaking on fan art and fan fiction and their impact on Harry Potter culture. Kevin McNeilly will be speaking about the impact on literacy and how the books teach readers to read. Judy Saltman will speak on the Harry Potter family tree — the influences and traditions that lead to the creation of Harry Potter. Phyllis Simon from Kidsbooks and Jamie Broadhurst from Raincoast will also be speaking about the Potter phenomenon from a business angle.
Shriver was keen to emphasize the importance of Harry Potter in reading culture today. Not only has a generation of readers grown up with the books, but the texts themselves are literary-focused, based in school with characters devouring knowledge and scenes centering around libraries.
Rare Books are also hosting a Halloween party – Potter-themed – on October 30. Tickets are now available. The exhibition is open until December 11.