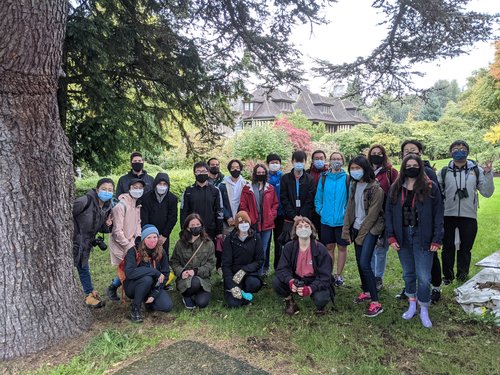 Looking for a fun, chill way to get out in nature and have a good time? UBC's very own birding club might be the place for you. Celebrating its tenth anniversary last year (happy anniversary!), UBC Birding is mostly just a group of people who like going out on walks together and being excited about seeing birds.
"It's super low commitment … For all levels to get together and enjoy what nature offers," said Amy George, fourth-year computer science student and president of the club. "That's kind of the reason it was established."
UBC Birding brings together people with birding knowledge and those who may not know as much but share the same enthusiasm. When talking about the ways students can get involved, George mentioned that "some people are ... interested in going out in nature. And then some people are into photography and end up [photographing] birds."
What do I do as a member?
The club holds monthly group outings to parks or museums to observe and identify birds. There's also a diverse range of people involved, from those with expertise and professional camera equipment to those who are just curious or want to go on a walk.
"You don't need to feel intimidated that you don't know anything about birds because that's kind of the point ... Whatever's there is still going to be outside when we go look for them. You don't need to know how to do the thing to enjoy it," George clarified.
Aside from monthly outings and an annual trip to Bloedel Conservatory, an indoor aviary located in Queen Elizabeth Park, the club also hosts online bird-related tutorials, such as workshops on making a bird-feeder or identifying bird species. They are also looking to potentially organize photography workshops in the near future.
All outings and events held by UBC Birding are open to all UBC students by registration, regardless of membership. However, students who do purchase the $10 annual membership get free tickets to the Bloedel Conservatory for the yearly trip.
One highlight
Bloedel is definitely a standout trip. "Hundreds of tropical birds can be seen in the indoor aviary in the conservatory," explained George. She also expressed how nice it is to just go and watch birds in a place that's warm and dry inside when Vancouver is cold and raining.
As the president, George's favourite thing about the club is the connections and enthusiasm that it inspires. While initially worried about the difference in perspective between members of different skill levels, she was pleasantly surprised to see experienced bird watchers help the less experienced members out, pointing out where the birds can be spotted and talking about the different species. "They're just like, 'Yay, small birds,' they're as excited as anybody else ... It's so heartwarming."
For more information
Membership to UBC Birding can be purchased directly on AMS CampusBase, which automatically signs you onto a mailing list for more information.