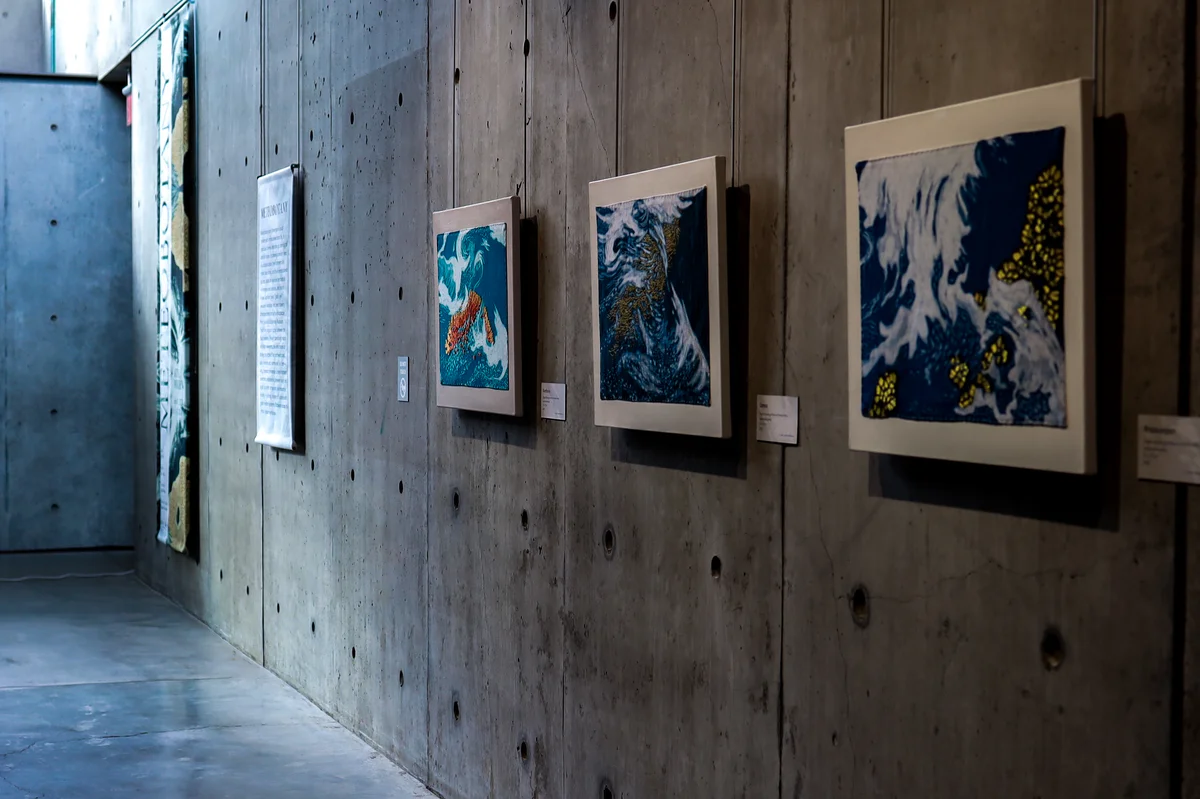 As a curious child, you once asked an adult where the clouds came from. They probably responded with the standard answer: from water in the atmosphere, from evaporated rain — and I'll bet it blew your growing mind.
But that wasn't enough for visual artist Bettina Matzkuhn. Growing up, her father took her boating along the coasts of British Columbia. She spent hours staring up at cloudy skies, transfixed by the hugeness of these continent spanning weather patterns. Her latest exhibition, Meteobotany, brings that size into conversation with a smaller, no less vital, part of BC's ecosystem: the symbiotic pairing of fungi and algae that come together to form lichens.
Each piece on display along the side wall of the Biodiversity Museum features a fabric screen on which is printed a hand-drawn digital image traced by Matzkuhn from satellite pictures of cloud formations. In between these formations, colourful thread is skillfully embroidered to resemble various species of lichens.
Matzkuhn says that these are meant to call attention to the interplay between "the micro and the macro" elements of our environment. She started with larger organisms; a few of the pieces on display at the Beaty feature flowers, leaves and kelp weaving through the clouds in place of lichens. But she soon found her focus fixed on the green crusts and yellow tufts sprouting on the rocks and trees during her hikes.
She got in contact with staff at the Beaty, whom she says were instrumental in helping her to identify and categorize each form of lichen. Indeed, the museum seems the perfect venue for this exhibit; Matzkuhn's pieces are displayed alongside slides showcasing real-life versions of the lichens they depict, and the work's juxtaposition of the micro with the macro is only strengthened by its interaction with the surrounding exhibits, which range from insects to megafauna.
Matzkuhn is also participating in this year's Eastside Culture Crawl, an annual festival celebrating and showcasing the work of artists from across Vancouver's Eastside this November 16–19.
Beginning as an open studio night and fundraiser for four local artists in 1994, the Culture Crawl, now run by the Eastside Arts Society, has grown to include over 500 artists' studios, playing host to 30,000 visitors over four days in 2022.
This year's crawl is shaping up to be just as busy, with Matzkuhn taking her place alongside fellow artists Micheal Abraham, Sophia Ahamed and hundreds more. I'm particularly looking forward to Sorour Abdollahi's beautiful oil paintings — they evoke familiar landscapes in abstract, runny splashes of colour like a memory put through the wash.
Matzkuhn recommends taking some time to explore the Culture Crawl's website and finding a studio or two that interest you, and I agree. This is your chance to get involved with your city's contemporary art culture — not only can you view these pieces in the studios where they were made, but the painters, sculptors and photographers who made them will be right there as well, ready to receive your praise, criticism and cash, should you decide to buy something.