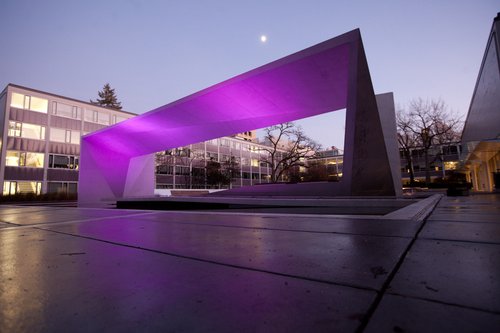 Arts Night Out, happening before and after Harvest Feast on Thursday, September 24, will be an evening of free performances, shows, galleries and student exhibits for an expected attendance of 800 to 1,000 students, faculty, alumni, friends and families to enjoy in UBC's Arts and Culture District.
Fifty years ago, Bertram Charles Binning, then head of the Department of Fine Arts, travelled around the world to top universities to find an answer to the question "what is the world doing in terms of fine arts?"
He found innovation, support for studio artists, and fine arts districts. Fast forward to the present, the Arts and Culture District will be launching with Arts Night Out as their pre-season opener. It is launched along with the UBC Centennial and is meant to be, according to Deb Pickman, "a soft launch of radical experiments."
Since January, Pickman has been working as the Communications and Marketing Manager for UBC's new Arts and Culture District.
"It will be a flashpoint for arts on campus and to create a place for respite, relaxation and fun," said Pickman. "It's to create a unique gathering place for enlightening and inspirational experiences of the curated, creative, performing arts."
This is a joint initiative by the directors, heads and deans across several units but led by the faculty of Arts. Arts Night Out has lots planned for the night to showcase as many different art forms as possible. Pickman advises to not plan the evening too much and attend events spontaneously.
"My advice is to simply follow your heart for your evening's agenda," she said.
It all starts with a pre-dinner event where the Millennial Time Machine will be opened to show off the flipped camera inside. This year's Harvest Feast will be closer to the Rose Garden and the Arts and Culture District and will be at 4:30 p.m. to 7:00 p.m. Afterwards, the Arts Night Out program is open for attendees to go where their passions lead them. Student ambassadors will be available as guides but the key point is to find whatever excites you. Galleries are open until 9 p.m. A cash bar will be in the Chan Centre for post-dinner drinks with a view.
The Arts and Culture District aims to create public space for the arts as well as character and community here at UBC. There will be something for everyone on the evening of Arts Night Out.
At the Belkin Art Gallery, there will be two art exhibits. Film Lexicon of Sexual Practices, complete with a projectionist, will free up your mind to question your personal inhibitions. Prohibited Imports will be an exhibit of art books containing sensitive material with a twist on the definition of censorship. The Museum of Anthropology, perfect for a view of the Salish Sea, will be exhibiting Portuguese popular art and c̓əsnaʔəm, the 'city before the city,' or what was on campus before UBC. Around the district, there will be improv shows by UBC theatre grads, open rehearsals from UBC Opera ensembles, and a technical rehearsal at the Frederic Wood Theatre.
Premiering at Arts Night Out will also be the Arts Roving Ticket Booth -- a ticket booth on a tricycle. Designed and built by UBC alumnus and adjunct professor Jonathan Tippett, his creation will serve as a curated concierge experience around campus. After the event, it will be selling half price day-of show tickets to further entice a larger audience to the Arts and Culture district.
Tickets for the Harvest Feast include admission for Arts Night Out. For admission to just Arts Night Out, a can or two for the AMS Food Bank is recommended but not mandatory. For a complete list of what will be offered at Arts Night Out, see the program here.